Pink and purple look
Omdat ik voor deze Pink and Purple look geïnspireerd was door YouTube Guru Julieg713
grijp ik gelijk de gelegenheid aan om deze Amerikaanse guru bij jullie onder de aandacht te
brengen. Wellicht kennen jullie haar al. Op dit moment zijn er maar liefst 151.996 mensen
op haar YouTube kanaal geabonneerd.
Julie maakt make-up- en nailart tutorials en heeft onlangs ook een aantal fashion video's
gemaakt. Ook reviewt zij regelmatig allerlei beauty items.
Ze plaatst bijna dagelijks nieuwe video's.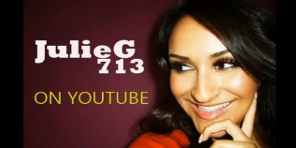 Julie werkt niet als professionele make-up artist,
maar is student. Als ik mij niet vergis volgt ze een
econonische studie. Julie maakt tutorials voor
hele draagbare looks, maar ook hele flamboyante
party-looks waarbij ze veel MAC make-up gebruikt.
Voor ieder wat wils. Ik word vaak heel hebberig van de mooie
producten die ze gebruikt en die in Nederland helaas weer niet te koop zijn.
Kennen jullie Julie al? Zo nee, neem dan snel eens een kijkje.
Pas wel op want haar video's zijn heel verslavend…..Je blijft kijken!
Voor deze look was ik dus geïnspireerd door een van Julie's filmpjes.
Het gaat om het "bright and spunky new years make-up tutorial".
Ik heb hele andere producten gebruikt en de blauwe oogschaduw heb
ik achterwege gelaten, simpelweg omdat ik deze kleur niet in mijn collectie heb.
Producten gebruikt:

UDPP
Urban Decay Last call e/s
Too Faced Thief of hearts e/s duo
Urban Decay Grifter e/s
Mac Brule
NYX Doll Eye Mascara