Easy Galaxy nailart
De Galaxy nailart stond al een hele tijd op mijn to-do lijstje,
maar op de een of andere manier kwam het er steeds niet
van. Ik heb laatst nog wel Galaxy waterdecals uitgeprobeerd,
maar het bleef toch kriebelen om het zelf ook eens te proberen.


Voor deze nailart heb ik me er voor mijn doen redelijk snel en makkelijk vanaf gemaakt.
Ik zal even vertellen waarom. Het idee was eigenlijk om een Halloween nailart maken,
maar deze mislukte tot twee keer toe
. Ik gaf er vervolgens de brui aan en probeerde
toen deze galaxy nailart uit. Ik was op dat moment een beetje door mijn tijd maar ook
motivatie

heen. Dus hield ik het redelijk basic. Toch is de nailart, hoe simpel ook,
nog best leuk geworden.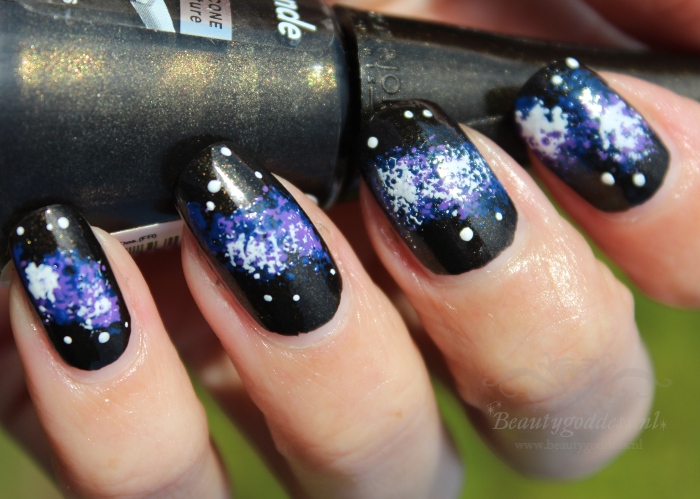 Vooral Bourjois Monster Blood, die ik als basis gebruikte, vind ik erg geslaagd.
Monster Blood is zwart met gouden shimmer en vooral in het zonlicht zie je dat
heel goed (zie hieronder). Die shimmers passen perfect bij een galaxy nailart vind
ik. Ik zal hem dan ook zeker weer gebruiken bij een uitgebreide galaxy nailart want
die gaat er zeker komen!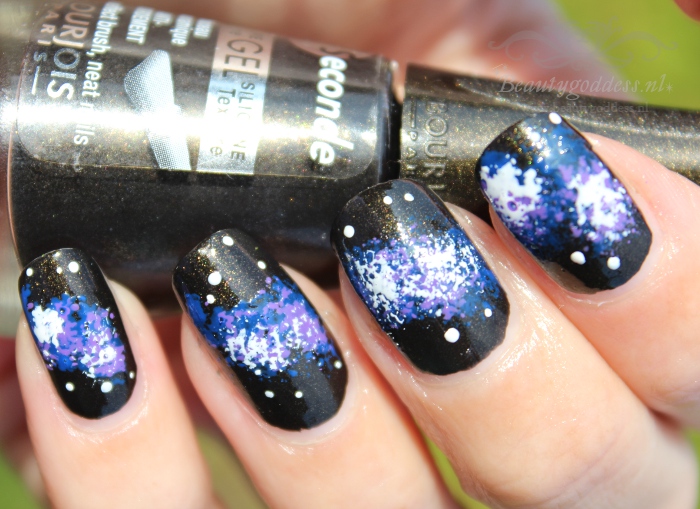 Naast Monster Blood gebruikte ik In the Navy van Bourjois (blauw) en Purple
Sunset van Trind (paars). Van Kleancolor gebruikte ik een witte lak, die helaas
heel erg dik was geworden, om het af te maken. Ik bracht de lakjes aan met een
sponsje. Met behulp van een dotting tooltje maakte ik met de witte lak wat
sterretjes.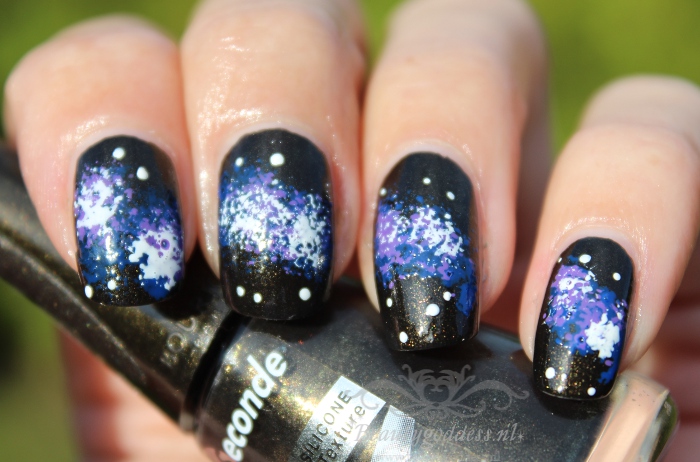 Heb jij Galaxy nailart al eens uitgeprobeerd?