Malaysian Beetle nails
Met deze nailart loop ik al zolang in mijn hoofd dat ik blij
ben dat het er eindelijk eens van gekomen is. Uiteindelijk
ziet hij er op mijn nagels toch weer heel anders uit dan ik
in mijn hoofd had. Ik had al meerdere variaties bedacht
en dit is wat het uiteindelijk geworden is.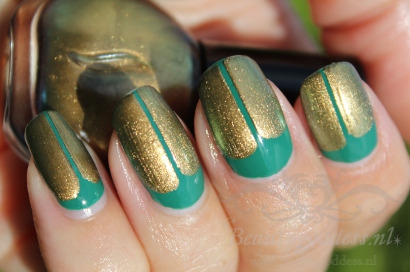 Voor deze nailart gebruikte ik de groene kleur Shout out Loud
van Rimmel die ik tijdens de Rimmel workshop kreeg als basiskleur.
Het heeft even geduurd voor ik eraan toe was om deze kleur te
gebruiken, maar nu we toch echt richting de herfst gaan vind ik
donkere kleuren weer wat leuker om te gebruiken.
De strakke lijn maakte ik met behulp van striping tape.
Met Sephora's Diving in Malaysia maakte ik 'de vleugels'. Dit blijft
een aparte kleur. Ik weet niet goed of ik het nu wel of niet mooi
vind, deze kleurencombinatie. Maar apart is het wel. Het was nog
best een klusje om de vleugels gelijk te krijgen. De ene keer kwam
de ene vleugel hoger dan de andere en moest ik bijwerken.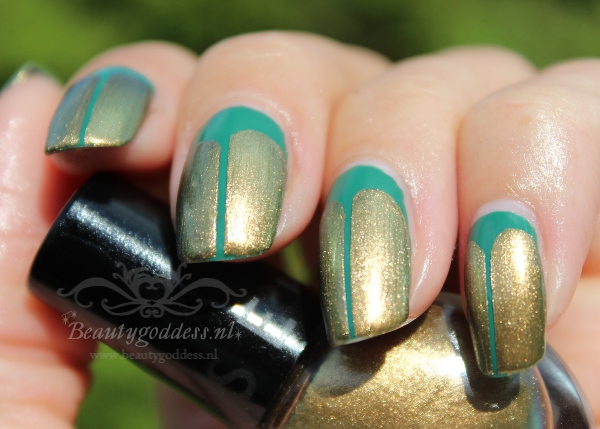 Voor deze nailart werd ik geïnspireerd door deze nailart van
The Polished Perfectionist. Zij gebruikte een groene holografische
nagellak voor de vleugels. Ik denk dat ik dat uiteindelijk mooier
vind, maar helaas heb ik geen groene holo dus ik moest een
beetje improviseren.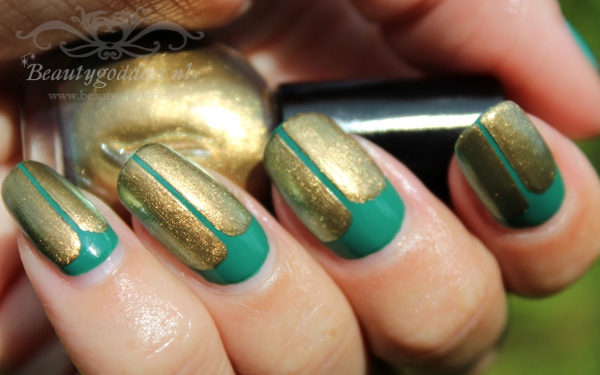 Wat vinden jullie van deze nailart?