Lancaster Sun Sport
De Sun Sport-lijn van Lancaster is speciaal ontwikkeld voor
de actieve zonaanbidders onder ons. Lancaster Sun Sport
belooft maximale zonnebescherming tijdens het sporten in
de zon.
De producten uit deze lijn kunnen direct op de natte huid
worden aangebracht zonder dat ze een witte waas op je
huid achterlaten of plakkerig zijn. En dat is handig en scheelt
je weer tijd.


Ik zelf behoor niet tot de actieve categorie, maar ik zie voor mezelf
zeker voordelen in de Sun Sport producten want niks is zo vervelend
als wachten tot je droog bent voordat je kunt insmeren of die vervelende
witte waas die sommige zonneproducten kunnen achterlaten. Het maakt
het insmeren eigenlijk een vervelend klusje dat ik zo min mogelijk doe.
Terwijl het natuurlijk wel belangrijk is. Nu het aanbrengen van zonnebrand
in een handomdraai kan, zal ik het zeker ook vaker doen verwacht ik.
De Sun Sport mists zijn verrijkt met het Tan Activator Complex ingrediënt
van Lancaster, waarmee je sneller bruin wordt.
Lancaster bracht body mists uit in SPF 15, 30 en 50.
Ook bracht Lancaster een gel uit in deze lijn die speciaal voor het gezicht
is. De gel-crème textuur zorgt voor een droge en fluweelzachte finish.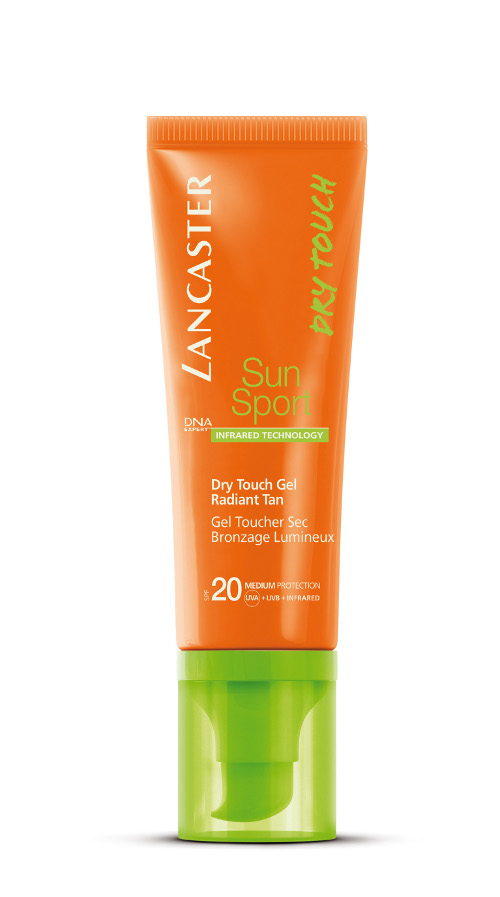 Zelf zal ik de body mist in SPF 50 binnenkort grondig voor jullie uittesten. Ik
wacht hier nog even mee omdat ik het testen onder de ideale omstandigheden
wil doen: strand, zee, zwembad en hopelijk heel veel mediterrane zon!!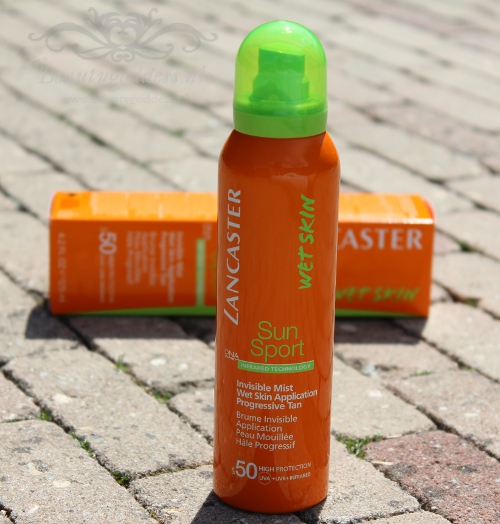 Hieronder een overzicht met adviesprijzen van de producten uit de
Lancaster Sun Sport lijn:
– Face & Body Dry Touch Gel Radiant Tan SPF20 (75 ml)  € 30
– Invisible Mist Wet Skin Application Sublime Tan SPF15 (125 ml) € 30
– Invisible Mist Wet Skin Application Sublime Tan SPF30 (125 ml)  € 30
– Invisible Mist Wet Skin Application Progressive Tan SPF50 (125 ml)  € 31
Lancaster producten koop je o.a. bij de Bijenkorf en Douglas.
Ben jij een actieve zonaanbidder of lig je net als ik
gewoon het liefst de hele dag op het strand?