Benefit Crescent Row heeft nieuwe vriendinnen
Dinsdag liet ik mijn wenkbrauwen bijwerken
door Najat van Benefit's Brow Bar in Utrecht en
heb ik gelijk aan de nieuwste vriendinnen van
Crescent Row gesnuffeld: Rita, Eva en Carmella.
De verpakking: een mini poppenhuis
die helemaal past bij de persoonlijkheid van
de desbetreffende vriendin, is weer even
prachtig als van de drie eerdere vriendinnen:
Lee Lee, Gina en Sofia. Het parfumflesje
zelf is wederom geïnspireerd op een coctail shaker.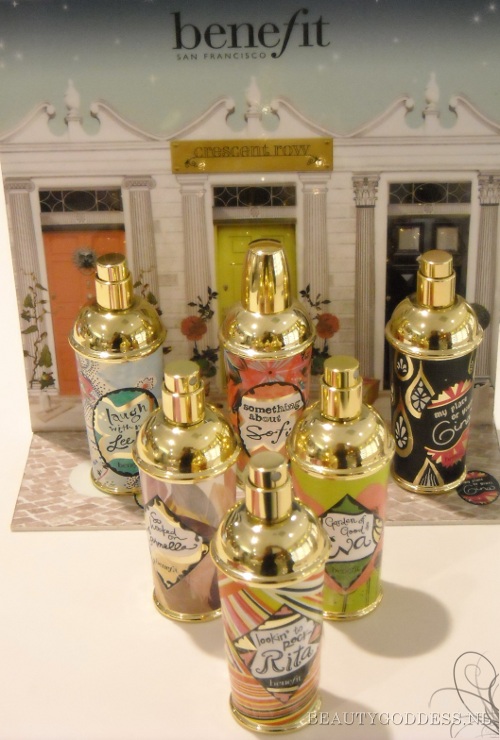 when it comes to Carmella
don't ask and don't tell
a light touch has admirers
under her spell
her sweet sensuality
no one would guess
so exquisite. enticing
"an intimate caress". So hooked on Carmella heeft een
frisse vanille/bloemen geur.

top noot:grapefruit
midden noot: vanille
basis noot: amber

Benefit omschrijft de geur als
"volmaakt vrouwelijk"

Bij Carmella krijg ik het gevoel dat zij een
verleidelijke vrouw is met een grote schare
aanbidders en een chique (lees dure) smaak.

 
come away with eva
breeze down a lush lane
she's the fresh rush of splendor
you can't quite explain.
so vividly vibrant
with a carefree demeanor
she swirls off to a place
"where the grasses are greener". Garden of good & Eva heeft een
citrus/bloemen geur.

top noot:peer
midden noot: waterlelie
basis noot: musk

Benefit omschrijft de geur als
"knapperig en vers".

Eva lijkt mij een stylish chick met
groene vingers

 
Rita's ready to rock
and dressed to thrill
with a flavor for risks
brilliant dreams to fulfill.
juiced up on extras
and dazzling fashions
a modern-day paradise
"of shake-it-up passions".

Lookin' to Rock Rita heeft een
fruitig groene geur.

top noot:citroen
midden noot: verse vijg
basis noot: cocosnoot

Volgens Benefit is deze
geur "opwindend en stijlvol".

Ik verwacht dat bij Rita thuis
salsa muziek uit haar speakers
schalt en zij een flamboyante
meid is die van stappen houdt.

 
Nadat ik uitgebreid had staan ruiken, vind ik de geur van
Carmella het lekkerst. Ik ben gek op vanille geuren en daarom
val ik als een blok voor dit geurtje. Qua persoonlijkheid spreekt
Rita mij het meeste aan. En er zit ook cocos in deze geur,
valt me nu op! En ik begin toch te twijfelen….
De eerstvolgende keer dat ik bij de Sephora ben, ga ik
Lookin' to Rock Rita gewoon nog een keer goed ruiken
en een tweede kans geven. In het ergste geval moet ik
ze allebei kopen!
De nieuwe Crescent Row vriendinnen (30 ml) kun
je voor 36 euro kopen bij de Sephora.
Wat vinden jullie van deze nieuwste
uitbreiding van de Crescent Row collectie
en welke geur/vriendin spreekt jullie het
meeste aan?