Eindelijk op Twitter!
Dit weekend heb ik besloten
om me toch aan te melden op
Twitter!
Ik heb er lang over getwijfeld
of het wel wat voor me zou zijn.
Mijn twitteraccount is beautygoddessnl
geworden.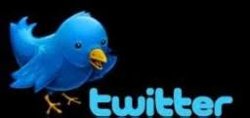 Ik had vooral mijn twijfels over de hoeveelheid tijd die in Twitter gaat zitten
en dat het misschien lichtelijk verslavend kan zijn

. Maar ook omdat ik naast een
hoop positieve geluiden ook hoorde dat er veel met modder werd gegooid op
Twitter. Er werd gebitchslapt en er waren cat fights. Allemaal zaken waar ik niet
zo'n zin in heb. Niet om er deel van uit te maken, maar ook niet om er getuige van te zijn.
Ik ga dus voor de positieve vibes en ik hoop veel gelijkgestemden te ontmoeten
op Twitter!! Dat moet wel lukken toch?!!!
Laat je Twitter account achter zou ik zeggen of volg mij … let's meet @Twitter!!!