Nieuwe kleur Benefit instant brow pencil
Kennen jullie de romige instant brow pencils
van Benefit al? Ik gebruik dit potlood
vooral wanneer ik haast heb of ik neem hem
mee voor onderweg of op kantoor om mijn
wenkbrauwen snel bij te werken.
Door dit tropische warme weer smelten
mijn (enigszins bijgetekende) wenkbrauwen
soms een beetje. Met Benefit instant Brow
pencil fris ik ze dan snel even op.
Speciaal voor de allerdonkerste brows
is er een nieuwe kleur "donker" (dark)
toegevoegd aan de instant brow pencils.
Naast donker bestaan de kleuren medium/donker
en licht/medium.

Zelf heb ik het potlood in medium/donker. Het
is een creamy potlood dat verandert in poeder
wanneer je erover heen gaat met het
borsteltje. Het geeft een mooi natuurlijk
effect en ziet er absoluut niet getekend uit.
En vanaf augustus is de nieuwste kleur
donker (dark) beschikbaar. Deze zal voor
mijzelf te donker zijn, maar voor wie zwarte
of heel donker bruine wenkbrauwen
heeft, is dit de ideale kleur!
Klik op de afbeelding voor een vergroting.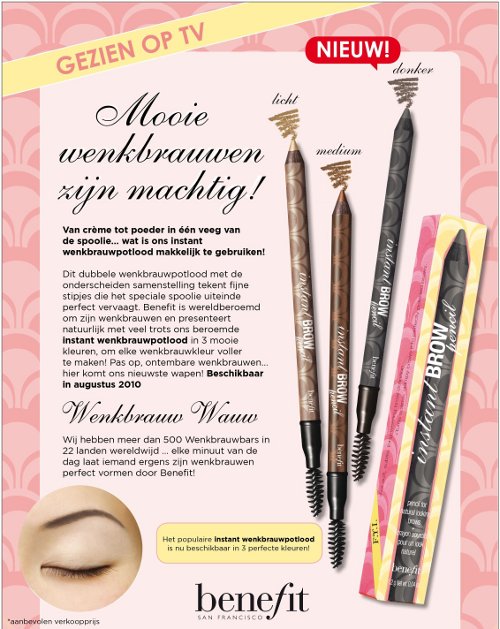 Twijfel je over welke kleur het beste past bij jouw
wenkbrauwen? Ga dan langs een van de Benefit
Brow Bars in Utrecht, Den Haag, Rotterdam
of Maastricht om je te laten adviseren.
De Instant Brow pencils zijn verkrijgbaar bij de Sephora
voor 19,50 euro.