On Stage
Omdat er hele leuke reacties kwamen op
artikelen van "gast" reviewers zoals Luce
en Lisette, vraag ik me nu hardop af of
er meer mensen zijn die het leuk zouden
vinden om mijn site als een soort podium
te gebruiken.
Mensen die bijvoorbeeld geen eigen site/blog
hebben (ik denk dat het vooral voor deze
mensen interessant kan zijn), maar wel
een keer die ontzettende mooie nagels of look
willen showen. Of iets willen vertellen over
hun beauty verslaving: wat niemand verder
nog wist: het mag anoniem! Een review kan
natuurlijk ook over een beauty product waarvan
je vindt dat we het absoluut wel of juist niet
moeten kopen.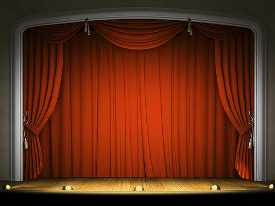 Lijkt het je leuk om op mijn podium te staan?
Lees dan even verder.

Lijkt dit je leuk? Neem dan contact op via het
contactformulier dat je hier kunt vinden en vertel
mij wat jij op mijn podium zou willen vertellen.