MAC Pigments swatches: Blue Brown, Teal, Reflects copper
Laatst kocht ik drie MAC pigment samples bij
webshop The Body Needs. Jullie wilden allemaal
de swatches zien en aangezien ik zo'n verzoek
natuurlijk niet kan weigeren heb ik ze voor
jullie geswatched.
Kijk mee voor swatches van Mac's Blue Brown,
Teal en Reflects Copper pigment swatches!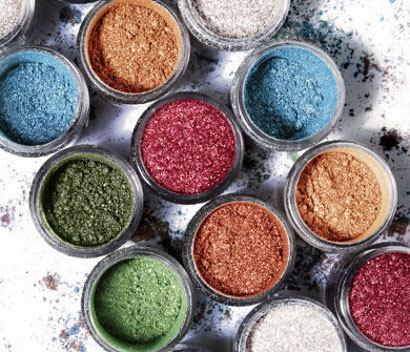 Het lijkt haast wel of teal verwerkt is in blue brown. Het is een hele
aparte kleur en ik moet nog even uitvinden met welke kleuren ik
hem het beste kan combineren. Ik ben er nog niet helemaal over
uit. Dus mochten jullie nog ideeën hebben.. let me know!
Van links naar rechts teal, blue brown en reflects copper.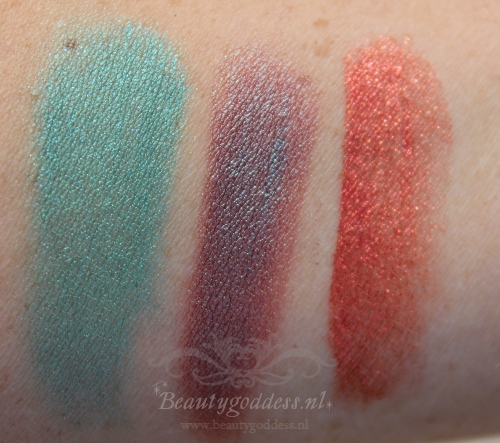 Ik heb de kleuren allemaal geswatched met gebruik van de mixing medium
die ik ook had besteld. Met mixing medium zijn de kleuren nog intenser en
kun je ze ook beter 'handlen'.  Ze blijven er beter door op hun plaats zitten.
Ik heb geprobeerd ze zonder wat dan ook te swatchen, maar de pigmenten
stuiven dan alle kanten uit. Ik denk dat ze op een primer ook mooi uit zouden
komen. Maar ik wilde ze aan jullie laten zien in combinatie met de mixing
medium die ik er speciaal voor gekocht heb.
Reflects copper is het meest korrelig van alledrie, maar wat een kleur
komt ervan af, wow!
Wat vinden jullie van deze kleuren en gebruiken jullie wel eens pigmenten?