ByBeautyBloggers Forum,the place to be for beauty bloggers!
Vandaag wordt een nieuw forum gelanceerd: ByBeautyBloggers.
Dit forum is opgericht door MissEvie (aka Evelien) en is een virtueel
meeting point voor beautybloggers. Op dit forum komen beauty
bloggers samen om te praten over hun gemeenschappelijke
passie: BEAUTY!
Op de ByBeautybloggers community kun je jezelf en jouw blog
voorstellen en natuurlijk zo ook weer nieuwe blogs ontdekken.
Om de lancering van ByBeautyBloggers te vieren, is er ook een
super leuke winactie! Lees dus snel verder!!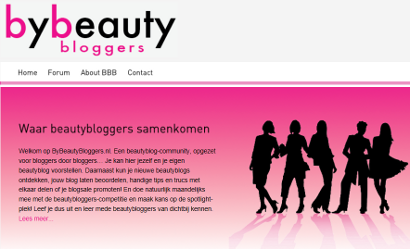 Op het ByBeautyBloggers forum kun je als beginnende beauty blogster handige
tips vinden. Je komt op het forum met ervaren blogsters in contact die je straks
natuurlijk ook vragen kunt stellen.
In principe kan iedereen, ook mensen die (nog) geen beautyblog hebben
meepraten op het forum. Ben je beautyblogger dan kun je de unieke
status van 'Beautyblogger, na goedkeuring, krijgen op het forum. Dan is het
de bedoeling dat je jezelf en je blog voorstelt. Met deze status krijg je ook
gelijk meer rechten. Met de Beautyblogger status kun je meedoen aan de
maandelijkse competitie waarmee je de zogeheten 'spotlight-plek' kunt
winnen en een maand lang op de voorpagina van het forum met je blog
kunt staan. Maar je kunt ook nieuwe topics openen op het forum en je
blog laten beoordelen als je dat wilt.
Over de winactie: meld je aan op het forum van ByBeautyBloggers en
plaats de meest originele en leukste berichtgeving over ByBeautyBloggers
op je blog / facebook / twitter en win een maand lang de allereerste
plek in de spotlight! Dit is natuurlijk niet alles, daarnaast win je ook nog
een leuke prijs met producten van het merk Ciaté! Plaats in het daarvoor
bestemde topic op het forum een bericht dat je meedoet en wat je gedaan
hebt.
Naast Miss Evie, zul je IJsprinses, Cynthia en mijzelf als moderator terug
zien op het forum. We hebben ons alvast voorgesteld en hopen dat jullie
dat straks ook doen. Meld je hier aan!