My Vegan & Natural Cosmetics stash
Omdat ik me van de week afvroeg hoeveel natuurlijke en
veganistische producten ik eigenlijk in huis had, heb ik alles
opgezocht en bij elkaar neergelegd. Zo kwam ik tot de
ontdekking dat ik best al een behoorlijke collectie heb
opgebouwd.
Het leek me daarom leuk om mijn stash eens met jullie te
delen omdat ik weet dat er genoeg mensen zijn die, net als ik,
ook een sterke voorkeur hebben voor dit soort producten.
Misschien breng ik jullie nog op ideeën of hebben jullie nog
aanraders voor mij! Laat dit vooral weten in de comments!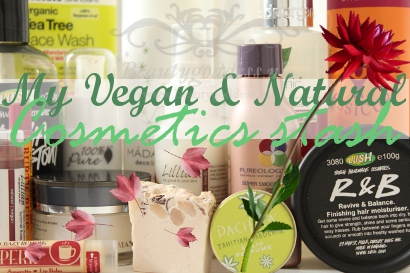 De producten die ik al eens heb gereviewed hebben een link naar het artikel.
Hieronder zien jullie een paar van mijn nieuwste aanwinsten en dagelijkse favorieten:
(v.l.n.r.) Lillian Skincare Monoï & Coconut moisturizer, Lillian Cleansing Oil & make-up remover,
Lush bubble Bar Dorothy, Lemony Flutter (is wellicht niet veganistisch/natuurlijk maar wel
geschikt voor vegetariërs las ik op de site van Lush), Dr Organic Rose Otto skin toner,
Lush It's Raining Men (net als Lemony Flutter geschikt voor vegetariërs), red wine resveratrol
oogcrème van 100% Pure.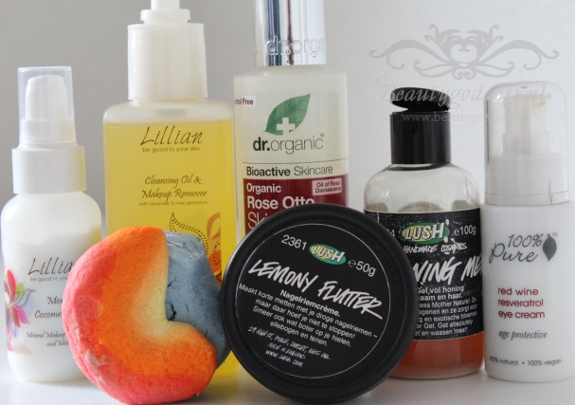 Burt's Bees lipshimmers, Lillian getinte lippenbalsem, Crazy Rumors lippenbalsems, Lush Sylvia Cynthia Stout
shampoo, Dr Baumann Sensitivie crème, Lush Sultana of Soap zeep, Pacifica tahitian gardenia solid perfume,
Pureology shampoo voor gekleurd haar, Dr Organic Tea Tree Face wash, Lush R&B moisturizer, Mádara
Moonflower getinte moisturizer,  Mádara Flowerdust shimmering moisturizing lotion, Jessicurl Rockin' Ringlets
styling potion.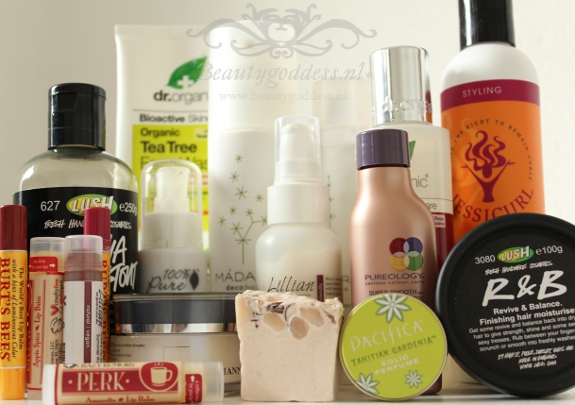 Gebruiken jullie ook graag natuurlijke & veganistische producten en zo ja,
wat zijn aanraders?