Trind Beauty of Nature najaarscollectie 2013
Trind liet zich voor haar najaarscollectie 'Beauty of Nature'
inspireren door de kleuren uit de natuur die je vooral in de
herfst en winter ziet.
Het resultaat is een collectie van zes warme en diepe kleuren.
De kleuren die je nu overal om je heen ziet, draag je met de
Beauty of Nature collectie op je nagels!
Kijk verder voor de swatches!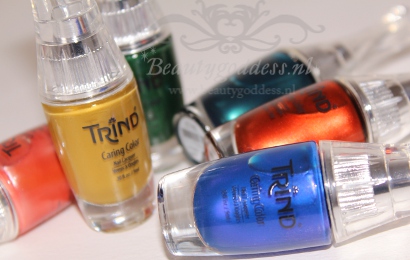 Het heeft wat moeite gekost vanwege het grauwe weer, dat hoort er ook bij
in het najaar 

, maar alle kleuren zijn in direct zonlicht gefotografeerd. Ik vind
dit toch het mooiste resultaat geven en ook de kleuren het meest recht aan doen.
Ik heb geen topcoat gebruikt bij de swatches. Dus de mooie glans is van de nagellak
zelf!
Emerald Swirl is een smaragdgroene lak met metallic finish die na twee lagen een
mooie dekking geeft.
Emerald Swirl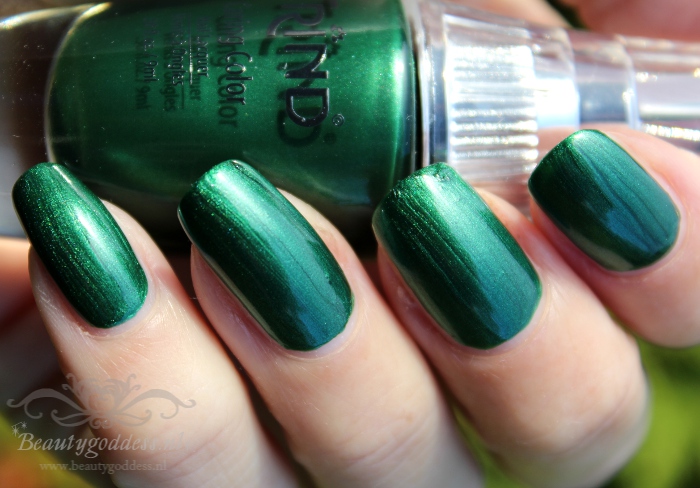 Golden Leaves is een okergele lak met gouden shimmers die drie lagen nodig heeft
voor een mooie dekking. Deze lak is vrij dun waardoor je voorzichtig moet zijn met
aanbrengen. Ik moest erg wennen aan de kleur, maar toen de zon de kans kreeg
om met deze kleur te spelen, hield ik even mijn adem in want in direct zonlicht is
deze nagellak echt een schoonheid!
Golden Leaves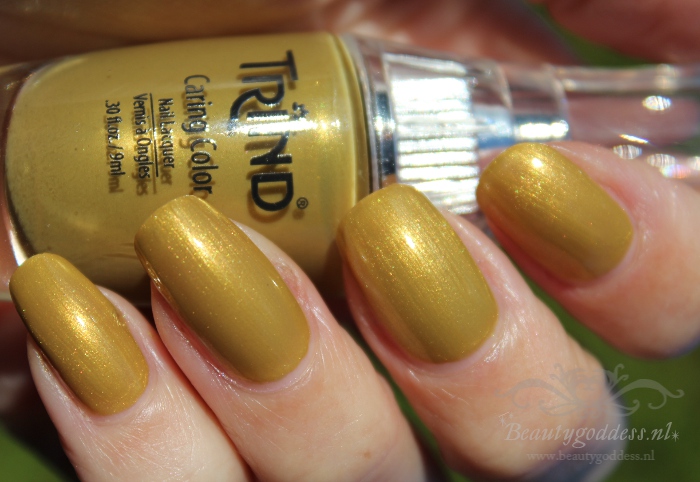 Sunset Orange is een warme koper kleurige nagellak met een metallic finish. Dit is mijn
favoriete kleur van deze collectie. Sunset Orange dekt goed na twee lagen.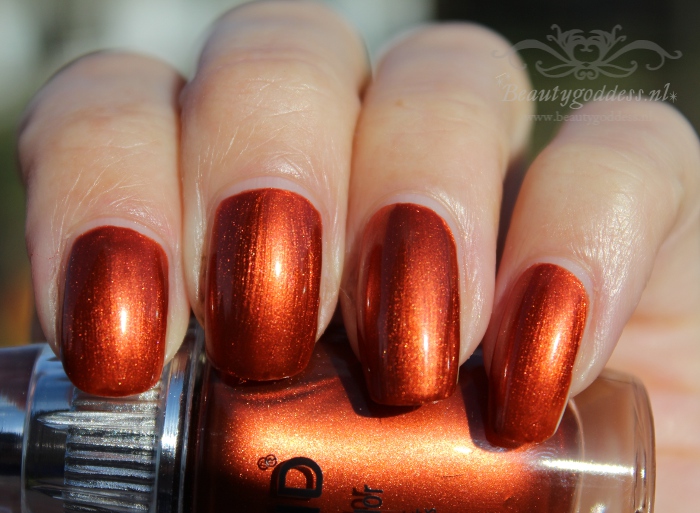 Sea Green doet me denken aan kerstbomen en dan vooral aan de blauwspar.
Deze nagellak dekt goed na twee lagen.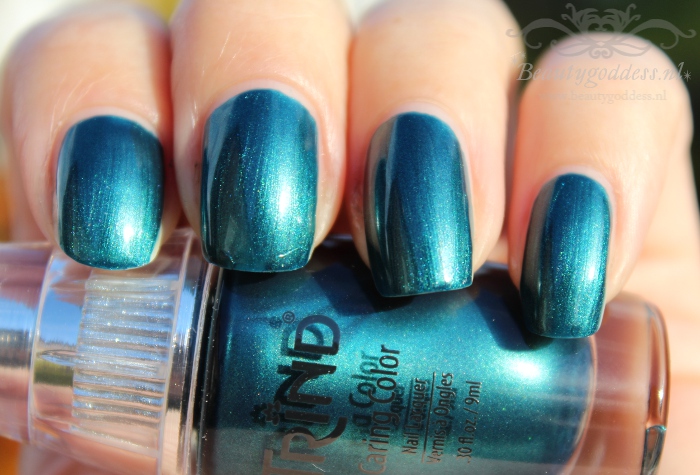 Ice blue is een diep blauwe kleur met paarse shimmers, die je vooral in het directe
zonlicht goed kan zien. Deze lak heeft drie lagen nodig voor een goede dekking.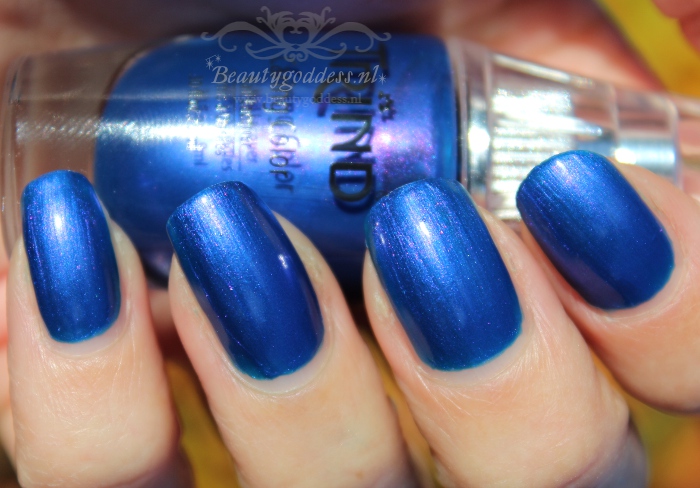 Flamingo Pink vind ik geen typische najaarskleur. Deze peachy lak met
parelmoer finish heeft drie lagen nodig voor een goede dekking. Ik vond
dit in eerste instantie een beetje een retro kleur, maar toen ik de shimmers
eenmaal in het zonlicht zag, veranderde ik direct van mening!
Flamingo Pink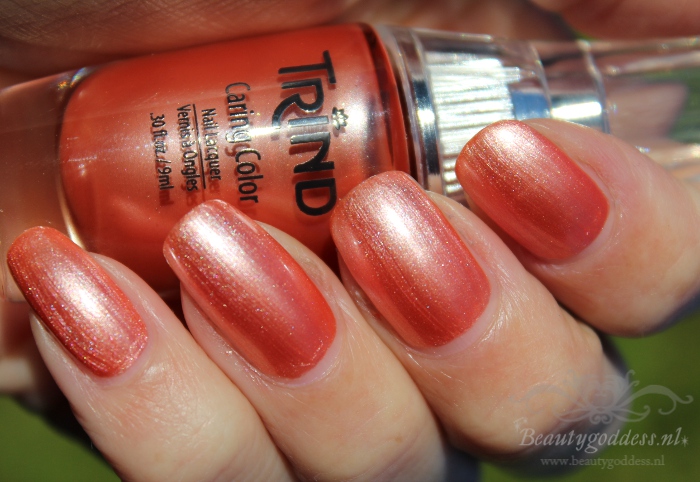 Ik begrijp nu waar Trind de inspiratie vandaan heeft gehaald voor Flamingo Pink:
De prachtige zonsondergangen die we in het najaar zo vaak zien moet Trind wel
geïnspireerd hebben voor deze nagellak.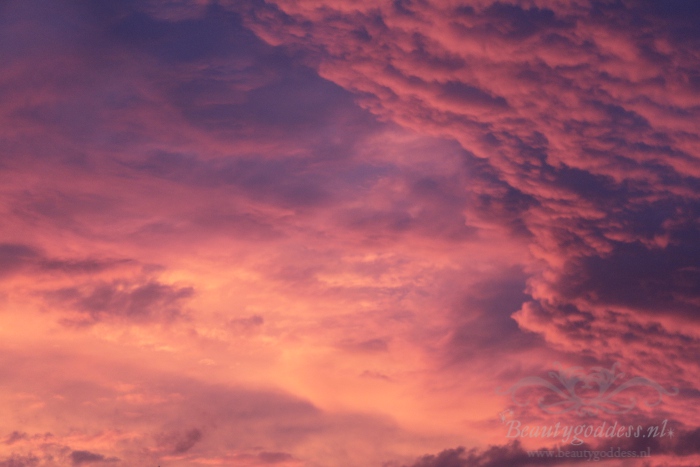 Van links naar rechts zien jullie: Flamingo Pink, Sunset Orange, Ice Blue, Sea Green,
Emerald Swirl en Golden Leaves. De Trind Caring Colors Beauty of Nature nagellakken
kosten 9,95 euro per stuk. Kijk voor verkooppunten op de Trind site.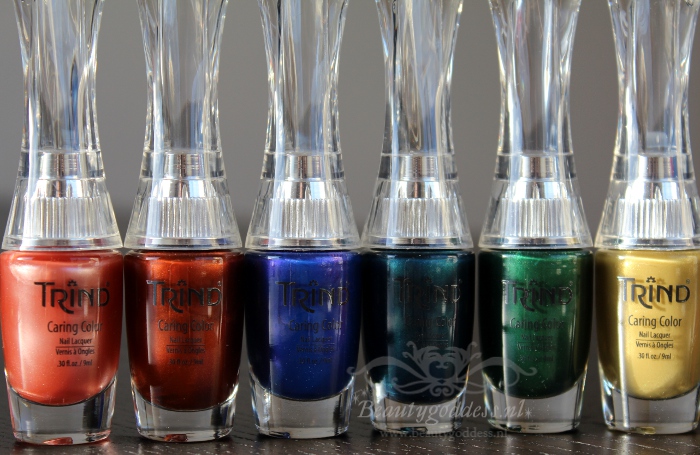 Houd mijn blog goed in de gaten want binnenkort geef ik een aantal
lakjes weg uit deze collectie!!
Welke kleur spreekt jou het meeste aan?