Review Benefit Sun Beam highlighter
Sun Beam is het zonnetje in huis bij Benefit: deze goudbronzen
highlighter geeft onze bleke winterhuidjes een instant oppepper.
Dit vloeibare goedje zorgt ervoor dat we er ook in december
sun kissed uitzien.
Lees verder voor mijn review en swatches!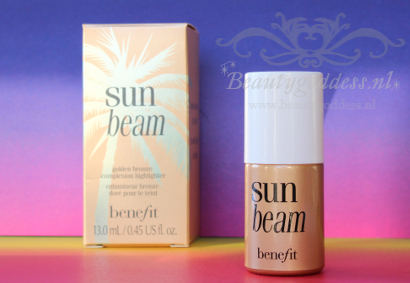 Sun Beam is het zonnige zusje van High Beam en breng je aan op je jukbeenderen
en onder je wenkbrauwen. Maar op de brug van mijn neus vind ik hem ook erg
mooi staan.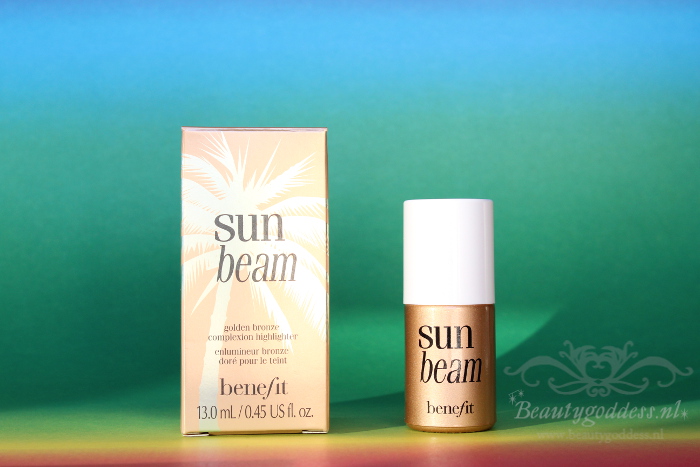 Net als High Beam zit Sun Beam in een flesje dat zo door zou kunnen gaan voor een nagellak.
Met het kwastje zet je eerst een paar stipjes van deze vloeibare highlighter over je make-up
en vervolgens blend je Sun Beam met je vingertoppen of een make-up kwastje.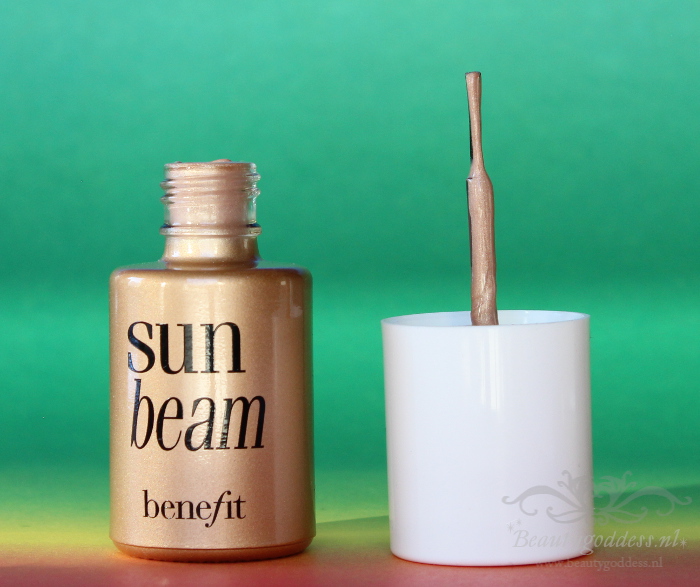 Ik vond het lastig om Sun Beam bij mijzelf vast te leggen. Op deze foto zie je Sun Beam
nog het beste op mijn jukbeenderen. Omdat ik van mijzelf licht getint ben, geeft Sun
Beam een subtiele 'glow'.
Mocht mijn oogschaduw je bekend voorkomen… de kleuren komen uit Benefit's Word
Famous Neutrals palette…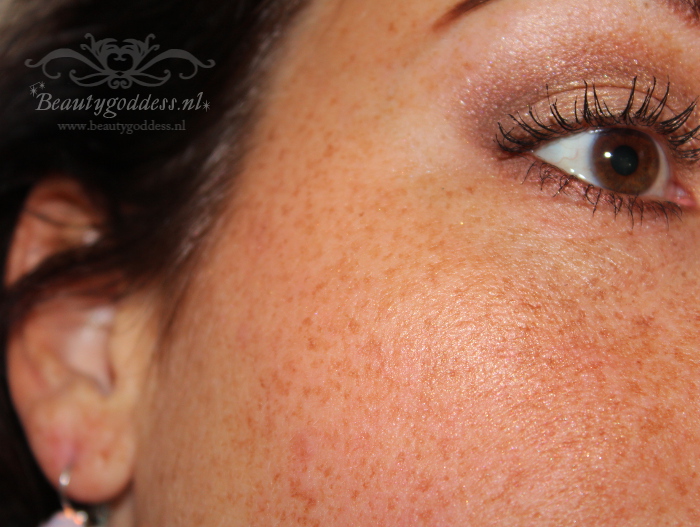 Hieronder zie je Sun Beam geblend (links) en ongeblend (rechts). In het zonlicht
is Sun Beam echt schitterend. Ik houd wel van goudbronzen kleuren. Sun Beam
is een hele warme kleur die als swatch best heftig en behoorlijk goud overkomt,
maar eenmaal geblend, geeft het je huid een subtiele zonnige glow.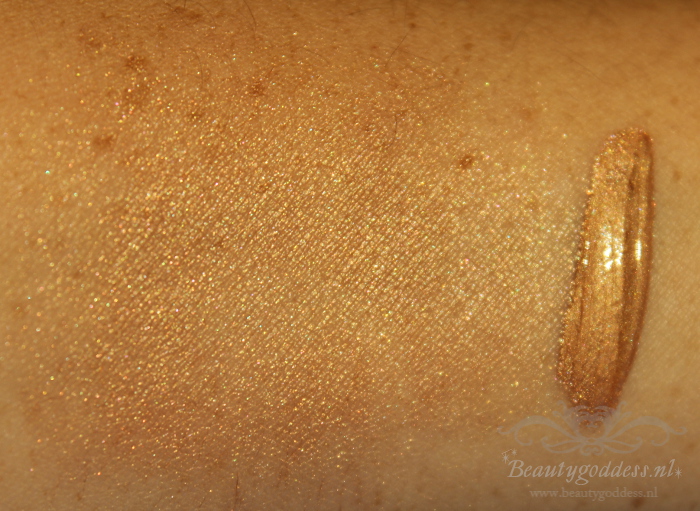 Hieronder nog een close-up swatch van een ongeblende Sun Beam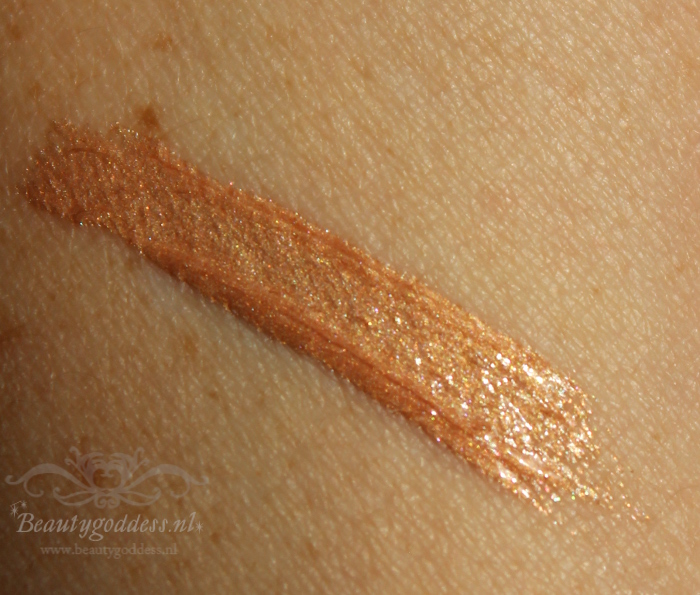 En een close-up van Sun Beam geblend.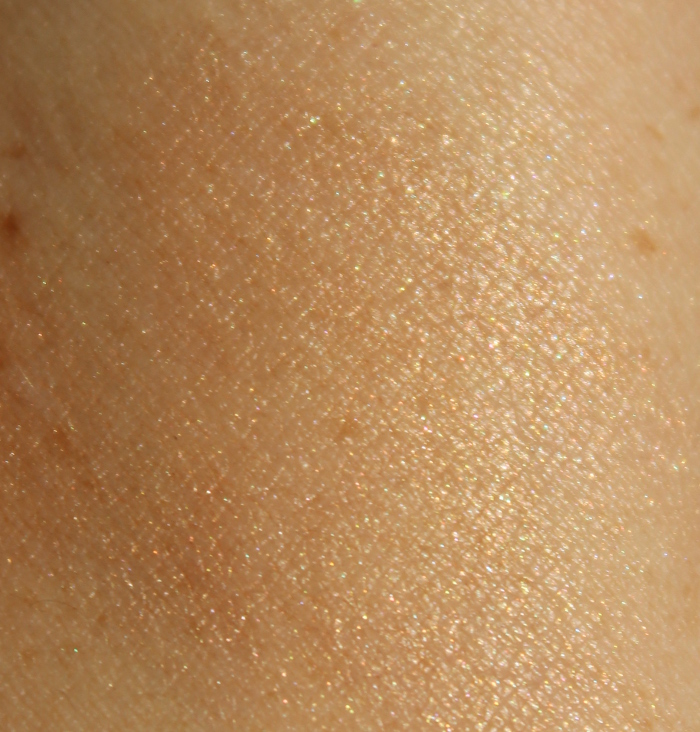 Met Sun Beam ziet mijn huid er gelijk iets zonniger uit. Sun Beam is mijn allereerste
goudbronzen highlighter, de meeste highlighters die ik heb zijn toch een stuk lichter
of rozer. Ik moest er daarom wel even aan wennen, maar inmiddels heeft dit kleine
zonnestraaltje mijn hart toch wel gestolen.
Sun Beam is verkrijgbaar bij Douglas voor 27 euro (13 ml).

Wat vinden jullie van deze goudbronzen highlighter?