Al een poosje ben ik op zoek naar de perfecte koraalkleurige lipgloss. Deze
lipgloss van Bonnebell vind ik dan ook prachtig en voldoet op het eerste
oog helemaal aan mijn wensen. Ook al beschrijft KKBB de kleur als "zacht roze"
zie ik er toch echt die mooie koraalkleur in met mooie fijne glittertjes.


De lipgloss is vrij dun en niet plakkerig. De geur van de lipgloss is inderdaad
lichtzoet. Maar…. de kleur verdwijnt helemaal op mijn lippen. Er blijft helemaal
niks van over. Weg koraalkleur! Ik heb dan misschien een beetje
gekleurde lippen en hier en daar een sproetje, maar ik had toch
wel iets van kleur verwacht. Ook voor de glitters heb je een vergrootglas nodig.
De lipgloss blijft niet lang zitten, na een drankje is ie zo goed als weg.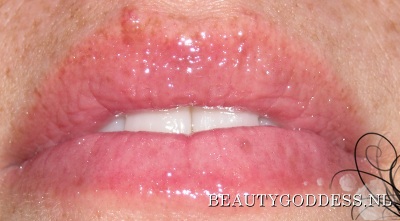 Mijn mening: hij valt me helaas erg tegen en hij blijkt niet de perfecte
koraalkleurige lipgloss te zijn waarnaar ik op zoek ben. Ik vind hem
dan ook absoluut niet bijzonder.
Op zich is het verder een lekker glossje en ik zal hem zeker vaak gebruiken.
Ik blijf gewoon zoeken naar die perfecte coral gloss of lipstick want die moet
en zal ik hebben dus als iemand een goed idee heeft…laat van je horen!!!!
Bonnebell kiss the gloss in Smooch is te koop voor 5,99 € bij KKBB.