Ook afgelopen maand heb ik weer een
paar spulletjes opgemaakt. Vooral de lipgloss
van Catrice "ocean sunrise" van de Oceana
collectie zal ik erg missen. Mocht iemand
een dupe hiervoor weten, laat het me weten!
klik op de foto voor een verrgoting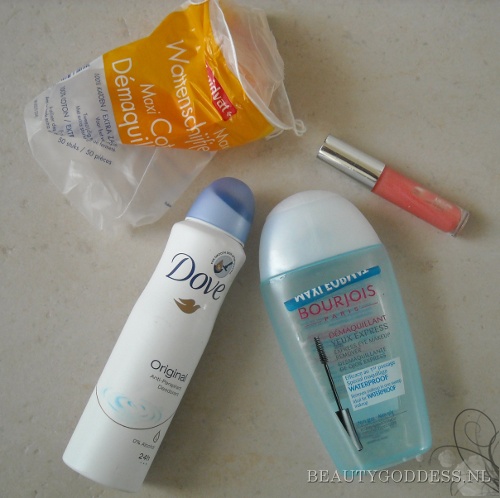 Nu ik het een beetje bijhoud, valt het me op dat ik
toch elke maand een deodorant opmaak. Ik vind
dat best veel… Door het warme weer gebruik ik
vaak wel wat meer, dus dat zal het verklaren denk ik.
Hierop bezuinigen lijkt me geen goed idee, tenzij
ik wil dat mensen met een boogje om me heen
lopen…hihi. Dove deo is mijn all time favourite.
Voor mij geen andere deo's meer.
Bourjois make-up remover was vorige maand
ook opgegaan. Een prima remover die ik
zeker opnieuw zou kopen wanneer ik weer
waterproof make-up draag. De review vind
je hier.
Catrice ocean sunrise lipgloss zal ik ECHT missen.
Wat een ontzettende fijne lipgloss was dit.
Ik heb hem dan ook veel gebruikt. De review
en swatches kun je hier bekijken.
De Kruidvat maxi wattenschijfjes blijf
ik ook kopen. Een heel fijn product
vind ik dat.
Vinden jullie het leuk om een foto te
zien van de opgemaakte producten of l
iever een collage of maakt het jullie niet uit?
Voor Juli maakte ik een collage, die
kun je hier zien.