Uitslag Deb's birthday giveaway
Ondanks dat ik mijn verjaardag
niet gevierd heb, voelde ik me
afgelopen 13 september toch
jarig. En daar hebben jullie zeker
aan bijgedragen!
Onverwacht kreeg ik de hele
dag door felicitaties per mail,
facebook, sms, post en zelfs
bezoek uit Amerika! En natuurlijk
niet te vergeten jullie felicitaties
via de site. Echt super! Ik voelde
me soms net als een klein kind dat
jarig is.
Hartstikke bedankt voor alle lieve,
grappige, leuke en hartelijke
verjaardagswensen! Jullie zijn echt
the best!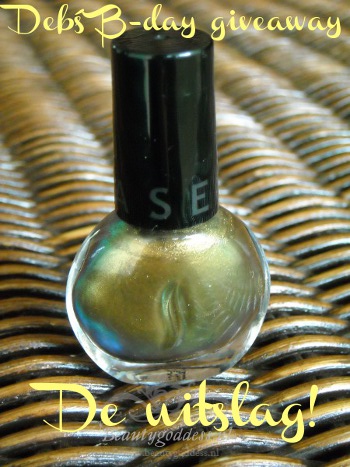 En dan nu de uitslag! De winnaar heb ik random gekozen met The Hat. Dit heb ik gedaan
omdat ik alle felicitaties leuk vond en ik iedereen daarom gelijke kansen wil geven. Gezien
het enthousiasme voor het lakje, had ik echt veel meer lakjes weg willen geven, maar ik
heb er helaas echt maar 1 … En dat is aan Daphne!!!
Daphne, jij bent de lucky girl die er met dit mooie lakje vandoor gaat!! Ik neem contact met
je op voor je gegevens.
Niet gewonnen? Niet getreurd want er komen zeker meer winacties.. I promise!!