Eerder schreef ik een artikel over de "Crescent Row" parfum lijn van Benefit Cosmetics.
Erg leuk dat ik van mijn vriendinnetje Luce voor mijn verjaardag laatst een mini fragrance setje van deze parfums kreeg.
Ik had 'em al zien staan tijdens mijn bezoek aan de Benefit Brow Bar en had er uitgebreid en hebberig naar staan kijken.
Hij was daar alleen niet te koop.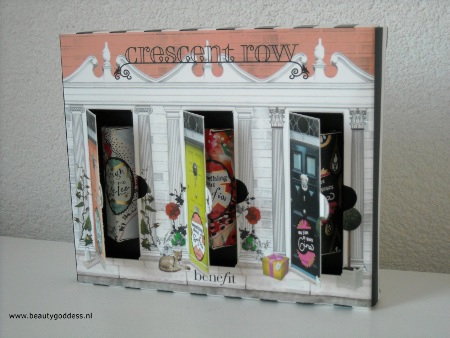 Achter de drie deurtjes van de Benefit Crescent Row mini fragrance set zit een luxe mini tester.
Op deze manier kon ik dus uitgebreid gaan testen. Parfum test ik altijd op mijn huid dat geeft de beste indruk.
Je huid beinvloedt de geur ook. Op een kartonnetje (wat je meestal krijgt om te testen in de winkel)
kan het heel anders ruiken. Uiteindelijk vond ik "My Place or yours Gina" het lekkerst.
Op het geurstaafje in de Sephora vond ik 'em nogal sterk ruiken.
Als ik daarop af was gegaan had ik deze geur dus afgeschreven. Op mijn huid ruikt deze geur ook best sterk,
maar ik vind hem heerlijk!
En toen kreeg ik deze parfum van mijn mannetje! De verpakking is geweldig en er is heel veel aandacht aan besteed
door Benefit,ik kan er echt de hele dag naar kijken.
Ook het mooie flesje zelf stelt een coctail shaker voor en is gemaakt van redelijk zwaar metaal.
De verpakking stelt het huis van Gina voor. Er zijn allerlei leuke details in het doosje: haar fuchsia roze open high heels op de trap,
uitpuilende sieradendoos, de flamingo, make-up tafel met champagne fles erop. This chick got style!
Voor elke parfum is een gedicht geschreven die bij de desbetreffende Crescent Row chick past.
Deze is voor Gina geschreven en staat achterop haar huis ehh verpakking:
Gina lives to seduce,
to tempt & flaunt
and knows you should always
get what you want
so sinfully sexy
her allure is unjust,
but as they say….
"all's fair in love & lust"

Je kunt de parfum alleen kopen bij Sephora voor 36 euro voor 30 ml.