Galaxy effect nails
Al een tijdje krijg ik de Galaxy nailart niet uit mijn hoofd, maar kon
ik niet kiezen uit de vele ideeën die ik erover had. Mijn hoofd liep
er letterlijk van over.
De Galaxy nailart trend lijkt ook weer helemaal op te leven dus ik
had zoiets van 'nu of nooit' en kwam uiteindelijk tot deze variant.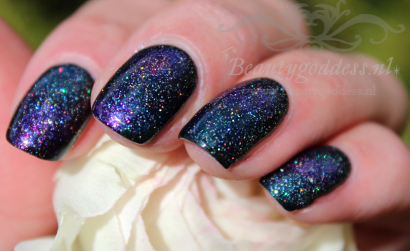 Via Eline van PocketFullofPolish ontdekte ik dat er zoiets bestond als een 'It's in the Stars'
set van China Glaze waarin een viertal lakken zitten waarmee je een Galaxy nailart kunt
maken. Ook van andere merken doken ineens dit soort setjes op.
Ik vond deze creatie die Eline met de China Glaze set had gemaakt heel mooi en besloot
om het ook uit te proberen met lakjes die ik al had. Ik kocht laatst wel Fairy Dust van
China Glaze die ook in deze set zit omdat het toch wel een hele bijzondere holografische
glitterlak is. En lapte daarmee mijn nagellak no-buy aan mijn laars.. ach, er zijn ergere
zonden te bedenken, toch

?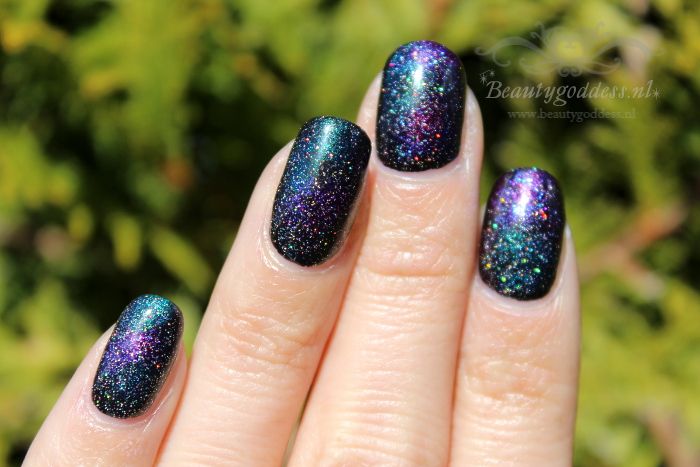 Door middel van het sponsen van de verschillende lakken en het aanbrengen van de glitter lak krijg
je een soort Galaxy effect nailart.
Ik ben nog lang niet klaar met de Galaxy nailart. Je kunt hier ook eindeloos mee variëren. De volgende
keer wil ik de 'nevel' en de 'sterren' wat meer naar voren laten komen en accentueren in de nailart.
Eerder maakte ik trouwens een Easy Galaxy Nailart (klik).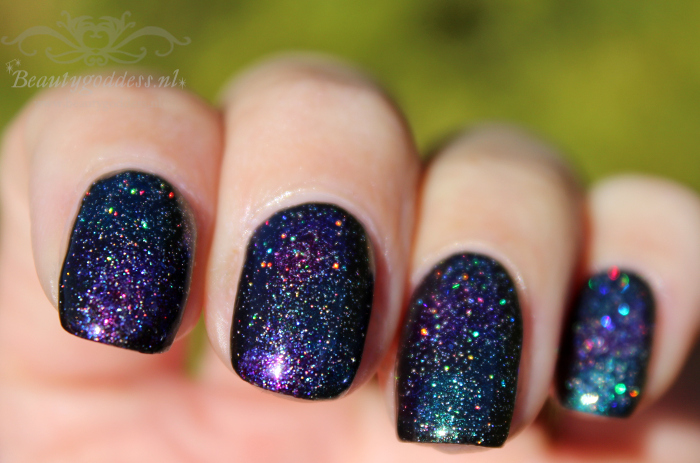 Galaxy Mania…. mijn camera raakte helemaal de kluts kwijt door al die glitters

.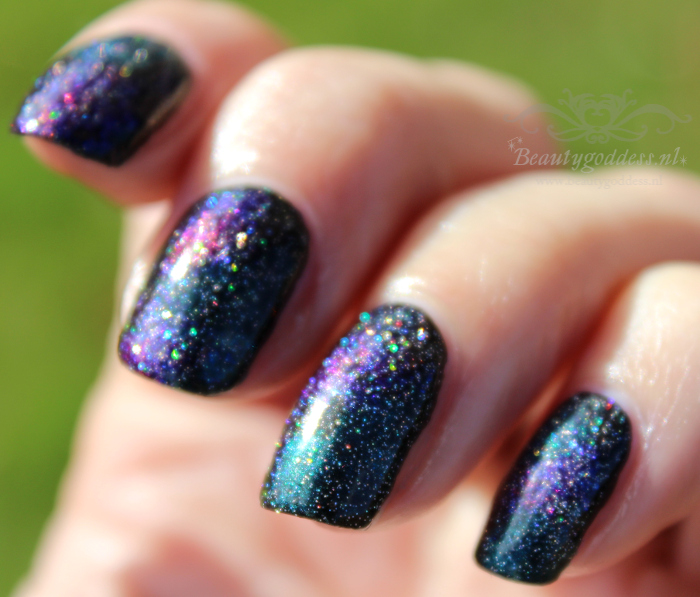 Deze lakken gebruikte ik voor de Galaxy nailart: (v.l.n.r) Bourjois Monster Blood, OPI Yodel me on my
cell, Orly Purple Poodle, Kiko 277, China Glaze Fairy Dust.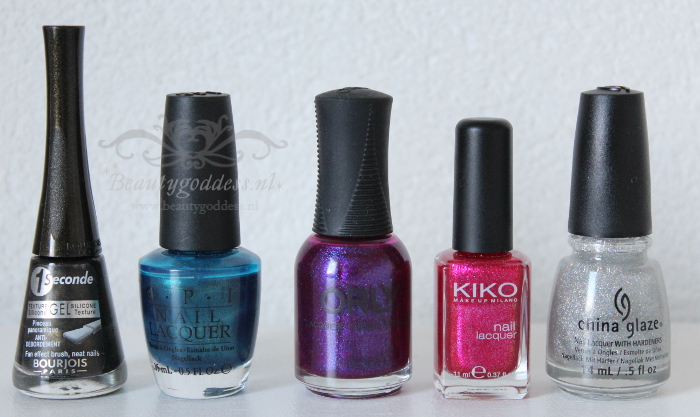 Ben jij ook zo in de ban van Galaxy nailart?