5 Pink Favorites
Oktober is de maand die elk jaar in het teken staat van Borstkanker en waarin wereldwijd
verschillende activiteiten worden georganiseerd om het bewustzijn van deze vreselijke
ziekte te verhogen. Met mijn vijf favoriete roze beauty items wil ik graag mijn steentje
bijdragen aan dit thema en een paar minuutjes van jullie tijd vragen om samen met mij
stil te staan bij deze ziekte, de mensen die er nu tegen vechten en hun dierbaren die hun
hier bij steunen.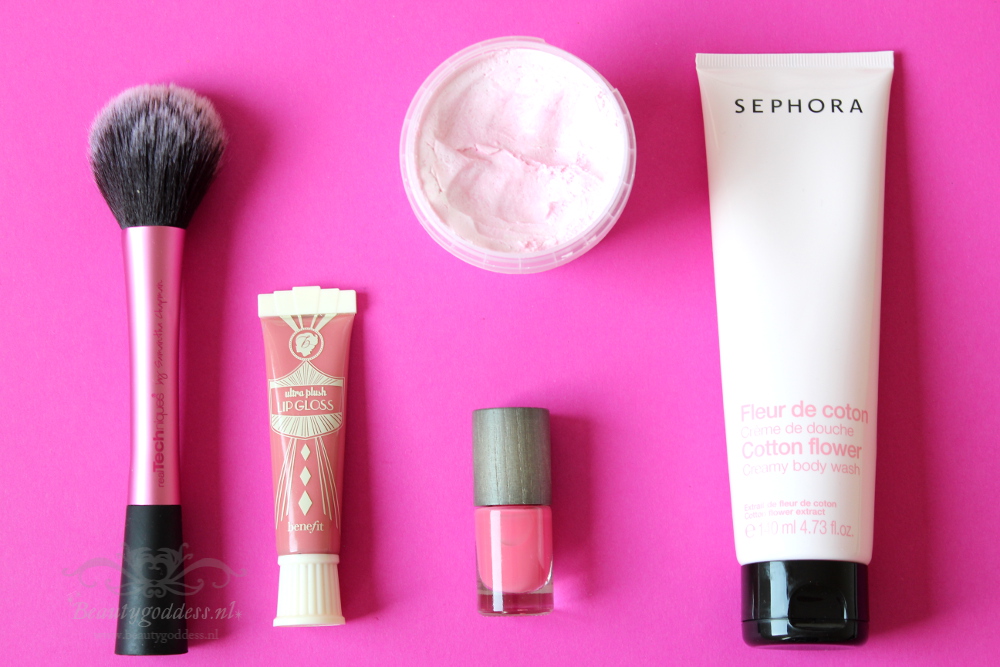 Eerdere jaren stond ik in oktober stil bij dit thema met een speciale roze manicure of nailart.
Dit jaar doe ik dat aan de hand van vijf van mijn favoriete roze beauty producten.
Van links naar rechts zien jullie:
♥ The Beauty Bakery Facial cleanser in de onweerstaanbare zoete geur "Sweet Macarons" (review)
♥ Benefit Ultra Plush lipgloss in Faumance (review), die ik letterlijk een paar jaar uit het oog ben
verloren, maar laatst weer terugvond in een vergeten tas en sindsdien elke dag draag
♥ Sephora Cotton Flower creamy body wash heeft een zacht en zoet poederachtig geurtje. Ik kocht
deze heerlijke en royaal schuimende body wash vorige maand in een Sephora in Luxemburg.
♥ Deze blush brush van Real Techniques voorziet mij elke dag weer van blozende wangetjes.
♥  De kleur nagellak Pivoine (review) van het merk Bo-Ho Cosmetics, dat ik nog niet zo lang geleden
ontdekte, maar een echte favoriet is geworden. Mijn eerste flesje is al half leeg en ik besloot om alvast
een nieuwe in te slaan. En dat wil, in mijn geval, écht wel wat zeggen!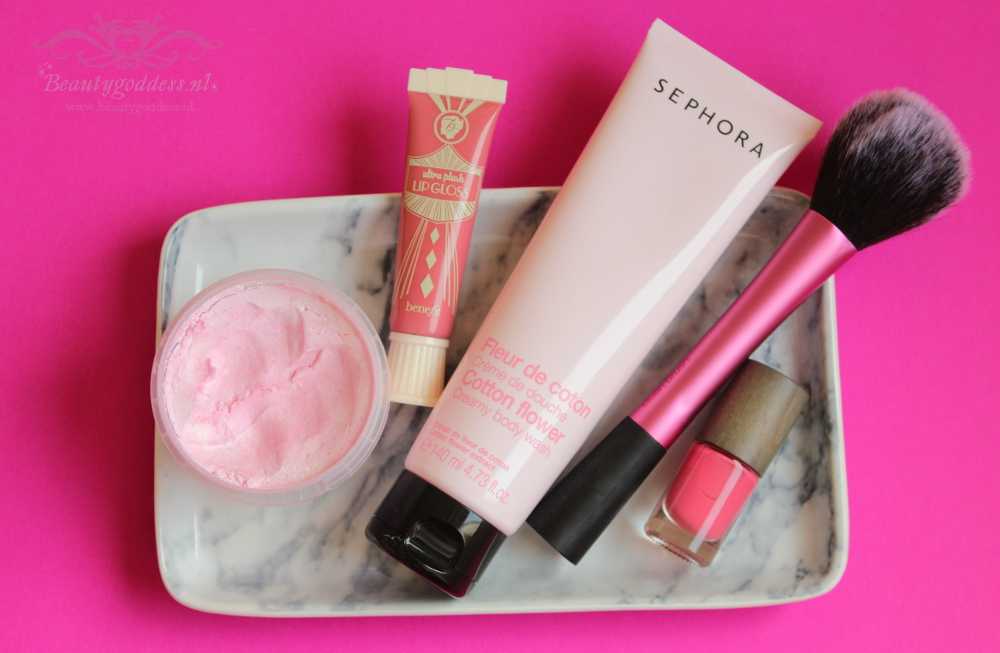 Wat is jouw favoriete roze beauty product en sta jij deze maand ook extra stil bij Borstkanker?