H&M Summer nailpolish giveaway!
Speciaal voor mijn volgers heb ik vier super
zomerse mini H&M nagellakjes uit Frankrijk
mee genomen.
Met deze kleuren kom je alvast in zomerse
sferen.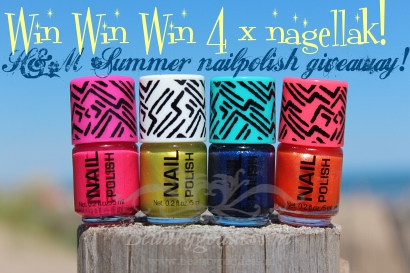 Benieuwd hoe je kunt winnen? Lees snel verder!

Het enige dat je hoeft te doen om dit leuke setje te winnen
is mijn blog te volgen via Bloglovin'. Ben je nog geen volger,
wordt dat dan nu en klik hier.
Ik zou het natuurlijk ook leuk vinden wanneer jullie de winactie
liken

.
Wil je extra winkansen scoren (optioneel):
* Like mijn facebook pagina hier
* Tweet: ' Ik doe mee aan de H&M Summer nailpolish giveaway
@beautygoddessnl doe jij al mee: http://tinyurl.com/mz3hp38 '
Laat in de comments weten of je een volger bent of dat zojuist
bent geworden. Heb je getwitterd? Vermeld dan de link naar je
onbeschermde tweet.
Wijkt de naam die je achterlaat in de comments af van je FB
account naam? Laat deze dan achter in de comments.
De winactie staat open voor Nederlandse en Belgische deelnemers.
Meedoen kan tot en met 1 juli.
Veel succes!!