Anchors away: blue and white striped nails
Voor deze nailart ging ik weer aan de slag met het striping
tape, maar ook met nail caviar. Deze nailart belandde nog
net niet in mijn nieuw aangemaakte 'nailart blooper mapje'
maar het spande er even om. 
Het had dus allemaal iets strakker gekund, maar ik vond
deze nailart in maritieme stijl uiteindelijk toch de moeite
waard om aan jullie te laten zien. Op de een of andere
manier word ik zo vrolijk van die blauwe en witte strepen.
Hopelijk hebben jullie dat ook!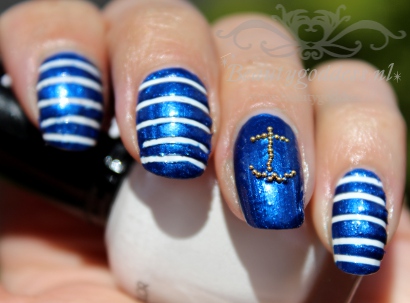 Voor deze nailart gebruikte ik een witte nagellak van KleanColor
in White (via webshop Djasa). Hieroverheen bracht ik een snel
drogende topcoat aan, maar helaas had ik toch niet lang genoeg
gewacht met het plakken van de tape want deze bleef nog een
beetje kleven aan de nagellak. Daarmee ging ik dus al de mist in…
De blauwe kleur is Tropical Blue van de laatste Trind Collectie
Paradise Island.
Met de gouden Nail Caviar (komt ook bij Djasa vandaan) maakte
ik het ankertje. Wat een priegelwerk was dat!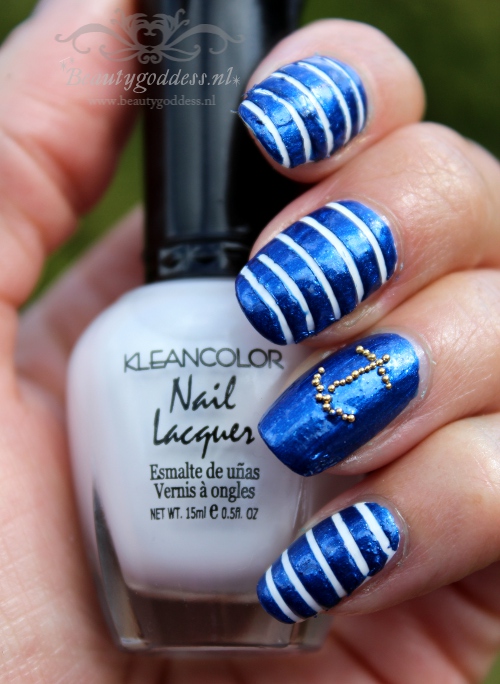 Ik vind de maritieme nailart stijl zelf erg leuk en ik
denk dat ik hier zeker meer mee ga experimenteren.
Hopelijk komt het er de volgende keer netter uit te
zien!
Wat vinden jullie van deze nailart? Leuk of toch
'blooper material'?