Striped firework nails
Deze stripe variatie wilde ik al een tijdje uitproberen want
ik vond het wel tijd worden voor een variatie op het hele
stripe gebeuren. Het wordt anders een beetje veel van
hetzelfde. Deze nailart tutorial gaf me inspiratie voor mijn
firework nails.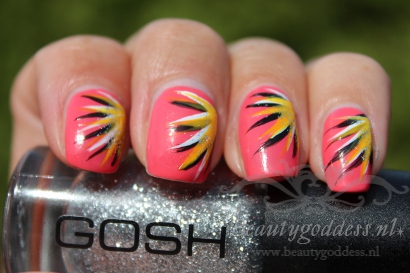 Ik twijfelde nog of ik niet mijn oranje striper moest gebruiken dus dat probeerde
ik eerst uit. Maar ik vond de gele toch mooier dus moest mijn gele striper eraan
geloven.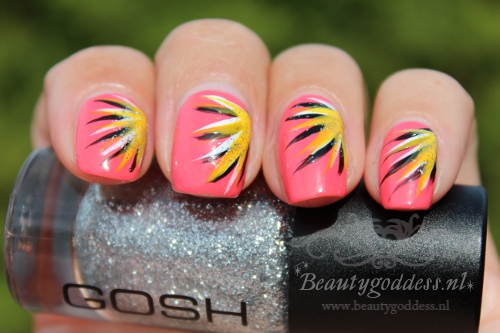 Het zijn toch allemaal hele verschillende kleuren, maar ze staan erg leuk
en zomers samen.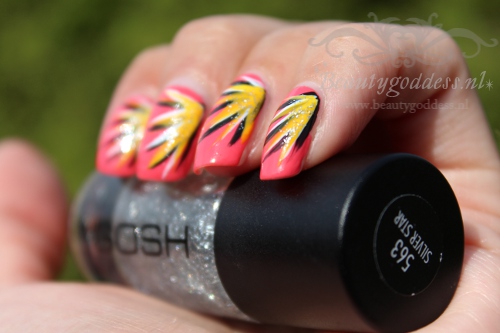 Vooral de glitters van Gosh geven net dat beetje extra. Ik had de glitterlak eerst
over mijn hele nagel aangebracht, maar ik vond het later toch leuker staan op de
stripes. Zo zien jullie maar hoeveel ik eerst aan het experimenteren ben voordat
er iets online komt.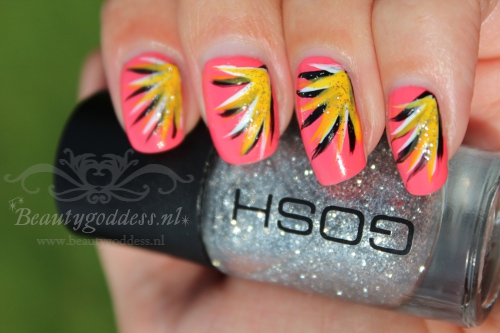 Deze lakjes gebruikte ik voor mijn striped firework nails:
– Een base coat
– Essie cute as as button als basis lakje (2 lagen)
– Een zwarte striper van LA Colors (art deco)
– Een witte tip painter van Essence
– Een gele striper van lemax
– Silver Star (563) van Gosh
Raken jullie al uitgekeken op de striped nailart of vinden jullie
het nog steeds leuk?