Catrice en Bourjois geshopped
Na lang twijfelen heb ik vandaag toch
maar de Sold Out forever nagellak
van Catrice gekocht. Voordat deze
nagellak zijn naam eer aan doet, wil
ik hem toch uitproberen. Ik vraag me
af of groen iets is voor mij. Maar op de
een of andere manier trekt me toch
iets aan deze kleur…misschien is het
de shimmer en misschien gewoon
de hele hype om deze nagellak.
Was het ook niet een dupe van een
of ander duur merk (Chanel)?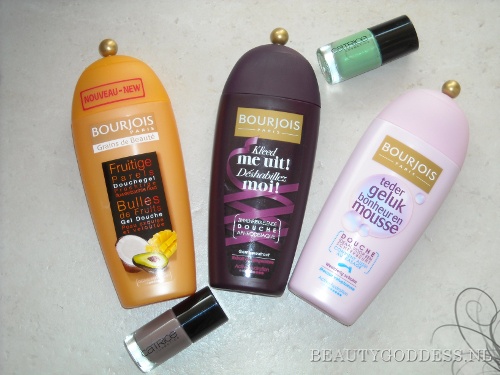 Dankzij Laura's shoplog kwam ik erachter
dat Etos momenteel een goede Bourjois actie
heeft. In plaats van 3 betaal je nu maar
2 euro voor een Bourjois douchel. Ik heb
er gelijk drie ingeslagen. Fruitige parels
met kokos, mango en advocado geur
vind ik het lekkerst ruiken.
Hebben jullie nog wat geshopped deze
week?