Ados Extra Long Lasting Purple (582)
In de goodiebag die ik afgelopen zaterdag mee kreeg van
Mardy's zat een Ados nagellakje die er om vroeg om direct
uitgeprobeerd te worden. Ados Extra Long Lasting in
nummer 582 is een prachtig paarse lak met een blauwe
waas, die je vooral in het zonlicht ziet.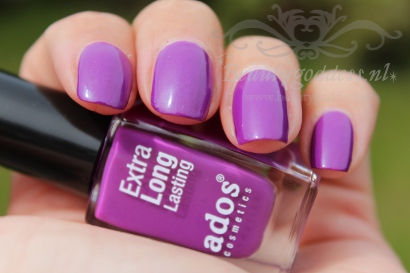 De lak dekt helaas niet heel goed dus pas na drie lagen was ik tevreden over
het resultaat.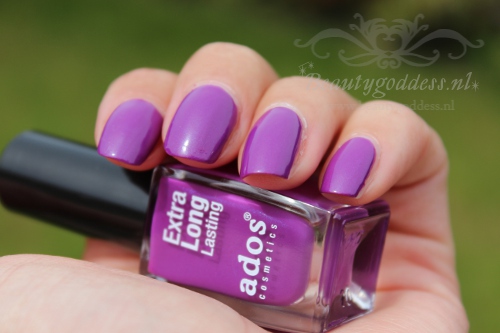 Of de lak extra long lasting is, heb ik helaas niet kunnen uitproberen…. Omdat de lak
er vrij dik op zat met drie lagen duurde het een eeuwigheid voordat hij droog was en
kwamen er al snel putjes en deuken in. Ik had er natuurlijk een topcoat overheen kunnen
doen en dat doe ik normaliter ook. Maar eigenlijk test je de lak zelf dan niet écht goed met
zo'n topcoat eroverheen.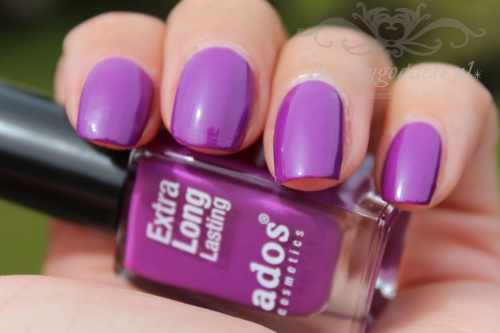 Toch vind ik hem erg mooi en zal ik hem zeker snel weer gebruiken en dan toch maar
een goede topcoat overheen doen. Dan gaat het vast een stuk beter, gok ik

.
Een close-up van de lak waarop je de blauwe waas het beste kunt zien.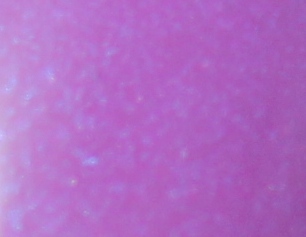 Dit lakje is voor maar (ik zeg maar want dit is toch super cheap of niet?!)
1,50 te koop bij Mardy's. Het lakje kun je hier vinden. 

Zijn jullie bekend met Ados lakjes?