Pink 'n Sparkly Japanese Cherry Blossom nails
Eigenlijk was ik van plan om op elke nagel verschillende nailart te
maken om zo mijn nieuwe NYC stripers te testen en reviewen,
maar het liep vandaag toch anders…
Toen ik eenmaal met deze Cherry Blossom nailart was begonnen,
was ik niet meer te stoppen. Het ging makkelijk en ik was enorm
tevreden over het resultaat dat ik besloot om op al mijn nagels
kersenbloesems te maken! Soms pakt een spontane nailart gewoon
beter uit dan een geplande.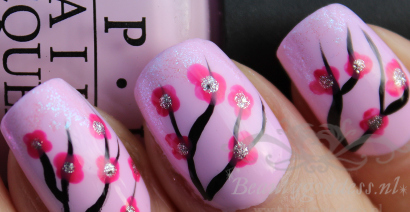 Ik heb al meerdere keren Japanse kersenbloesems gemaakt op mijn nagels check hier, hier en
hier. Maar op de een of andere manier verveelt deze nailart mij nooit. Ik doe het ook steeds
weer iets anders en ik gebruik andere nagellakken. Dus het ziet er nooit helemaal hetzelfde uit.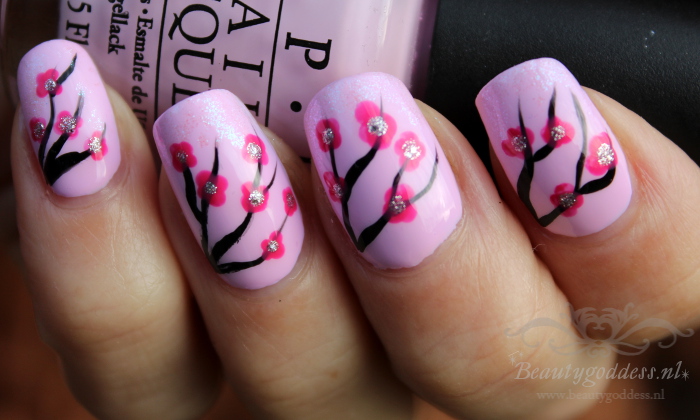 De basiskleur voor deze nailart is Mod About you van OPI. Ik ben echt dol op deze nagellak! De
structuur is een beetje dik en stroperig en ook de dekking is niet om over naar huis te schrijven,
maar de kleur.. I'm absolutely Mad about it!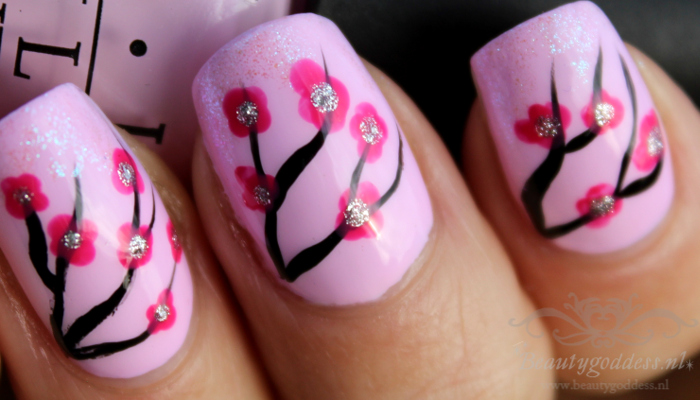 De shimmer lak aan de bovenkant van mijn nagels is Sally Hansen Diamond Strength in crystal
beading. Deze shimmer geeft een leuk en sparkly effect aan de nailart. Deze lak heb ik een tijdje
geleden van Dhini gekregen. De takken van de kersenbloesems maakte ik met NYC striper in Black
Ink, voor de bloemetjes gebruikte ik NYC striper in Pinkasso, met behulp van een dotting tooltje.
De bloemhartjes maakte ik met It's Raining Stars van Bourjois. Vervolgens gebruikte ik Essence
Studio Nails better than gel nails top sealer.
Ik word zelf helemaal blij van deze nailart. Ik vind de Japanse kersenbloesem in het echt ook heel
erg mooi en de geur ervan is heerlijk. Ik kan dus zeker niet beloven dat dit de laatste Cherry Blossom
nailart zal worden

.
Zijn jullie al uitgekeken op de Cherry Blossom nailart of kunnen jullie er net als ik ook geen
genoeg van krijgen?