Benefit Ultra shine lipgloss
De allernieuwste lipgloss van Benefit is de
Ultra Shine lipgloss. Een gloss met een
vleugje kleur en een prachtige glans voor
ultra glanzende en fonkelende lippen!
Deze lipgloss verscheen onlangs ook in
de schappen van de Nederlandse Sephora.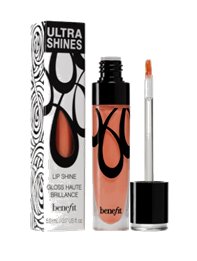 De ultra shine gloss is verkrijgbaar in drie kleuren:
Back to the fuchsia (fuchsia)

Dancing Queen (roze watermeloen)

Spiked punch (creamy coral)
De gloss heeft een abrikoos/lychee smaakje
en een applicator met een kwastje.
Mijn favoriete kleur is de spiked punch, al
vind ik de fuchsia kleur er ook spannend uit zien.
Deze ga ik zeker binnenkort eens bekijken.
Ik ben ook erg benieuwd naar het kwastje
wat me erg handig lijkt in gebruik en de geur/smaak
van de lipgloss aangezien vooral abrikoos een
van mijn favoriete vruchten is.
Zit jullie favoriete kleur er ook bij en gaan jullie
deze glosses kopen of in ieder geval bekijken?
De Benefit Ultra shine glosses (5 ml) worden
voor 19 euro verkocht bij de Sephora.