Deze limited edition bathtablets van The Secret Garden hebben misschien
maar een dag of 2 in de Shop gestaan omdat ze razendsnel uitverkocht waren.
Dus misschien heb je ze helemaal niet zien staan…
Gelukkig heb ik een setje kunnen bemachtigen dankzij mijn lieve vriendinnetje Luce.
We zouden ze samen kopen, maar uiteindelijk heeft ze me de tablets gegeven voor
onder de kerstboom. Lief he!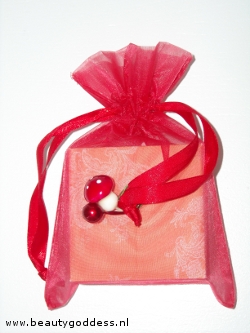 Luce vond deze tabblets zo leuk dat ze er gelijk 6 (en daarmee zo'n beetje de voorraad heeft leeggeroofd bij TSG)
van kocht om weg te geven. Ze zijn ook zo leuk ingepakt! Echt perfect om als kadootje weg te geven
en te ontvangen natuurlijk 😉
Ik kan je alvast vertellen dat ze heerlijk kerstig ruiken…meer lees je in mijn review die ik plaats zodra
ik een tablet heb uitgeprobeerd.