Magnetic nagel producten
Vanmorgen ging ik langs bij de showroom van Mey Liang Nails en Cosmetics in
Soesterberg.Er was daar namelijk Open Huis.
Mey Liang Nails en Cosmetics is o.a. een groothandel in Magnetic nagel producten.
Normaal gesproken kun je er alleen kopen wanneer je een gediplomeerd nagelstyliste
bent of een nagelsalon hebt. Maar ik had geluk dat ik met een vriendin van mij,
die deze papieren wel heeft, mee kon. Het is er echt een walhalla voor nagel spullen. 
En je kon er kortingen van 15-20% krijgen. Ik was er al eens eerder geweest en ik was
echt onder de indruk van de kwaliteit van de Magnetic topcoat en de fijne nagelriem
olie met perzik geur. De Magnetic topcoat doet niet onder voor de OPI topcoat vind ik,
maar is wel vele malen goedkoper. Helaas was hij al een tijdje op dus ik ging dit keer
voor een XL exemplaar. Ook kwam ik erachter dat ze er Ardell verkopen.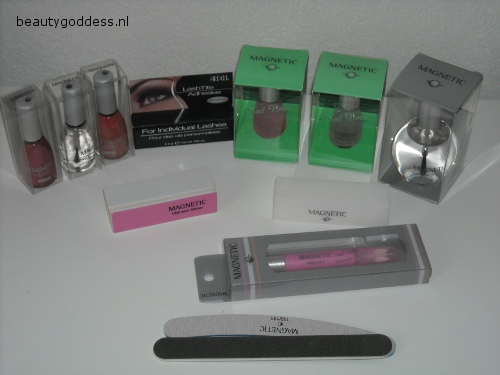 Wat ik gekocht heb (alles is van Magnetic):
Strong support, strong support base coat
white night, vitamin nail whitener
Quick dry top coat (15 en 75 ml)
Nailpolish corrector pen
2 vijlen, polijst blokje
2 nagellakken in de kleuren Hologram Raspberry en Radiant Red
en Ardell lashtite adhesive.
Helaas kom ik er nu achter dat ik de Ardell wimperlijm voor
losse wimperharen heb gekocht -zucht-. Weet iemand of je
deze lijm ook voor hele wimpers kan gebruiken? Ik wilde hiermee
eindelijk eens een keertje de Max falsies gaan gebruiken die
alweer een tijdje in de kast liggen.
Magnetic producten kun je alleen in de nagelsalon en
groothandel kopen voor zover ik weet.
Mocht iemand nieuwsgierig zijn naar de prijzen,
laat het weten dan zet ik ze er alsnog bij.