Final day to enter the Benefit Core Color giveaway!
*********************************
DEZE WINACTIE IS GESLOTEN
*********************************
Vergeten jullie niet om mee te doen aan mijn
Benefit giveaway? Vandaag Morgen 22 mei is
alweer de laatste dag dat je mee kunt doen.
Speciaal voor mijn lezers heeft Benefit een pakket
samengesteld met items uit de nieuwste Core Color
collectie aangevuld met zomerse Benefit producten
voor een instant zomers gevoel. Al laat het mooie
weer nog op zich wachten van dit mooie pakket
krijgen jullie het vast vanzelf warm!!!
Dus waar wachten jullie nog op en doe mee!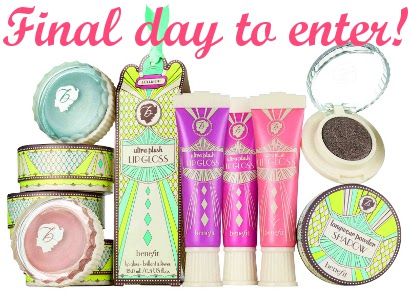 Doe je al mee? Fingers crossed dan! Doe je nog niet mee en wil
je dit op de valreep alsnog graag? Grijp je laatste kans en doe mee!
Klik hier om te lezen hoe je kans kunt maken en mee te doen. Of
klik linksboven op het Benefit giveaway icoontje op mijn blog. 
Succes iedereen!!!