************************************************
DEZE WINACTIE IS GESLOTEN
************************************************
Vandaag is de allerlaatste dag dat je kans kunt maken op een
prachtige Smartphone wallet van Fab. in zwart of zalm: je mag
zelf de kleur uitkiezen!
Doe je al mee en verspreid je vandaag de winactie nogmaals
dan krijg je van mij (nóg) een extra winkans!
Lees snel verder!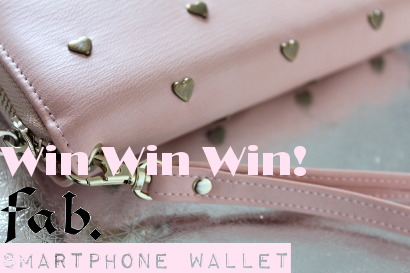 Hieronder nog even de winactie voorwaarden op een rijtje:
Wat moet je doen om kans te maken (verplicht):
♥ Volg mij op Bloglovin' (volg mijn Blog en niet mijn gebruikersprofiel)
♥ Like de winactie post op Bloglovin'
♥ Like de Facebook pagina van Smartphone hoesjes
♥ Laat me weten IN DE COMMENTS VAN HET WINACTIE ARTIKEL (KLIK HIER)
EN DUS NIET IN DIT ARTIKEL welke kleur wallet (zwart of zalm) jij wilt winnen
en dat je aan de actie voorwaarden hebt voldaan.
DOE JE AL MEE EN WIL JE EEN EXTRA WINKANS SCOREN (BOVENOP DE EXTRA
WINKANS DIE JE MISSCHIEN AL HAD) OM JE KANSEN TE VERGROTEN?
♥ Verspreid de winactie via FaceBook, Twitter of je blog en laat de link ernaartoe
achter in je comment in DIT artikel.