Review The Secret Garden Christmas bathtablet
Vandaag probeerde ik een Christmas -limited edition- bathtablet uit  van
The Secret Garden. En dat was echt genieten!
Ik vond het eigenlijk een beetje zonde om hem te gebruiken…want ziet ie
er niet cute uit: met hulstblaadjes en een besje. Echt helemaal kerst.
Ook zitten er fijne groene glittertjes op, maar die zie je niet zo goed op de foto.
En de geur….hmmmm….lees snel verder voor als je nieuwsgierig geworden bent
of misschien wel een beetje jaloers omdat je misgegrepen hebt

!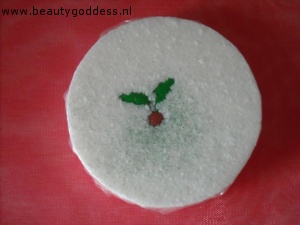 Alleen de verpakking vond ik al geweldig. Een organza zakje met een
paddestoeltje om het lintje waarin een kartonnen doosje zat met 2
bathtablets in rood en groen papier gewikkeld.
Deze limited edition was zo uitverkocht, ik had echt mazzel. Na een dag of 2
waren deze bathtablets helemaal uitverkocht en ik heb ze ook niet meer gezien.
Deze bathtablets hebben een heerlijke frisse dennen geur. Maar niet overheersend.
Echt een toepasselijke geur voor kerst.
Wanneer de tablet in aanraking komt met water schuimt ie er flink
op los. Binnen een paar seconden is hij helemaal opgelost.
Hij schuimt verder niet. Het besje en hulstblaadjes lieten op een gegeven moment los en zijn
opgelost. 
Ik kreeg een olieachtig laagje op mijn huid toen ik bad zat. Helemaal niet vettig en precies
wat mijn vreselijk droge huid nodig heeft. Eenmaal uit bad was het ingetrokken
dus ik had er geen vettig/glimmend huidje aan over gehouden.
Deze bathtablets kostten (toen ze nog verkrijgbaar waren, hehe) 1,95 euro per 2 stuks .