Lilac Rose nails
Van de week kocht een Catrice
nagellakje in de kleur Lucky in
Lilac. Op zichzelf al een mooi
kleurtje maar de waterdecals
van VivaLaNails die ik nog had
liggen maken het wat mij
betreft helemaal af!
klik op de afbeelding voor een vergroting
Om de kleur mooi dekkend te krijgen waren toch wel 3 lagen drie lagen nodig. Twee lagen
kunnen op zich wel maar ik vond het toch het mooist met 3 lagen.
Deze foto is buiten in het zonlicht genomen.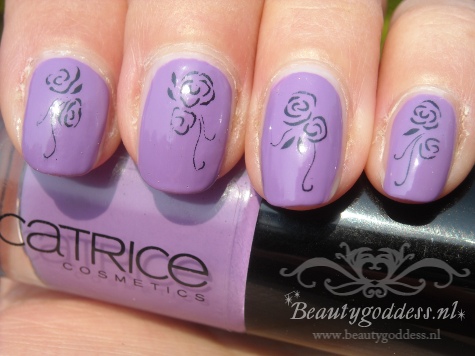 Eerder had ik de waterdecals op Color so Hot it Berns van OPI uitgeprobeerd. Op rode
nagellak staan de rozen waterdecals ook super mooi vind ik.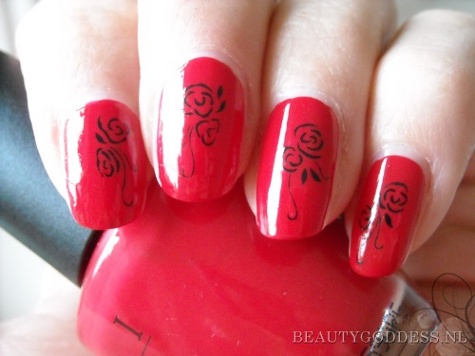 Waterdecals van VivaLaNails vind ik echt een fantastisch product! Ze zijn flinterdun dus je
voelt en ziet ze niet op je nagels zoals bijvoorbeeld nagelstickers. Het lijkt dus net of de
roosjes op je nagels getekend zijn. Het lijkt heel ingewikkelde nailart.
Ik heb waterdecals van andere merken gezien, maar die zijn toch nog zo dik dat je ze op
de nagels ziet liggen. Of je moet de vorm er eerst helemaal uitknippen. Dan kun je net zo
goed stickers gebruiken vind ik. Da's veel makkelijker. Deze waterdecals zijn al helemaal op
maat voorgeknipt en glijden, nadat je ze hebt geweekt in water voor een paar seconden,
helemaal kant en klaar van het velletje af.
Het enige nadeel vind ik de prijs. Voor 20 waterdecals betaal je £ 1,99 plus de verzendkosten
vanuit Engeland (£2.95). Je kunt het maar 2 keer gebruiken en het is er als je een beetje pech
hebt na een paar dagen alweer af. Aan de andere kant… een manicurebehandeling met nailart zal
veel duurder uitpakken. En deze waterdecals zijn echt erg goed.
Misschien hebben jullie nog tips waar ik de volgende keer net zulke goede waterdecals
(in Nederland) kan halen voor een lagere prijs?