Vintage Coral tattoo nailart
Dankzij Michaela ontving ik laatst een leuk pakketje waarin twee
setjes KISS nail tattoos zaten. Ze hebben even in de kast gelegen
omdat er tegenop zag om ze aan te brengen. Ze lijken op full
wrap waterdecals en daar ben ik niet zo handig mee. Dus toen ik
eenmaal genoeg moed had verzameld, ging ik ermee aan de slag.
En het bleek zó makkelijk om ze aan te brengen, had ik dat maar
eerder geweten!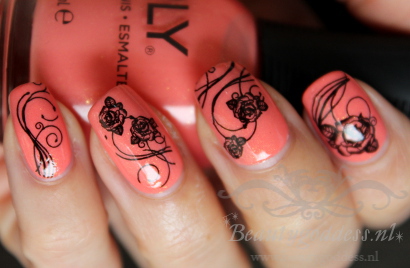 De nail tattoos zijn even dun als waterdecals, maar hebben het gemak van nagelstickers.
Net zoals bij waterdecals versmelten de tattoos als het ware met je basislak en topcoat
waardoor het lijkt alsof je de designs zelf hebt gemaakt met een kwastje. Het probleem
met nagelstickers vind ik dat ze vaak te dik zijn en op je nagel liggen wat je dan ook
goed kan zien. Ik vind dat persoonlijk niet heel mooi en het ziet er een beetje nep uit.
Daarom gebruik ik dus liever waterdecals.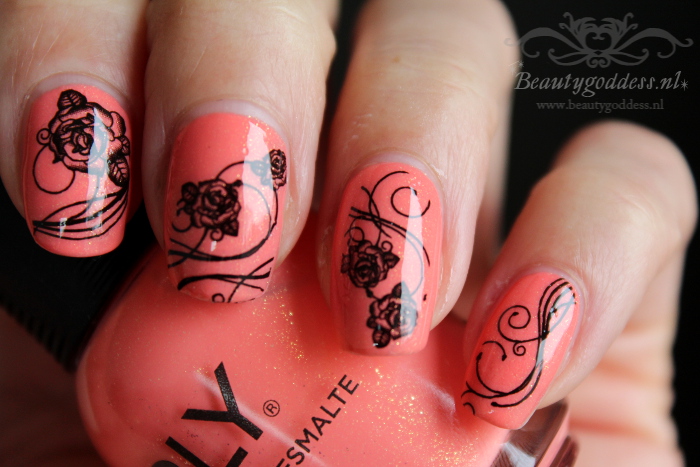 Met waterdecals moet je wat meer geduld hebben. Je moet ze vaak eerst op maat knippen
en eraf weken in water voordat je ze op je nagels aan kunt brengen. Deze nailart tattoos zijn
dan ook ideaal voor de luie nailart fans of voor mensen met weinig tijd (en geduld; zoals in mijn
geval

) want ze zijn helemaal op maat gemaakt en je hoeft ze niet in water te weken. Ze
zijn helemaal klaar voor gebruik.
Ik bracht de nailart tattoos aan over Cheeky van Orly en sealde de tattoos met een glanzende
topcoat.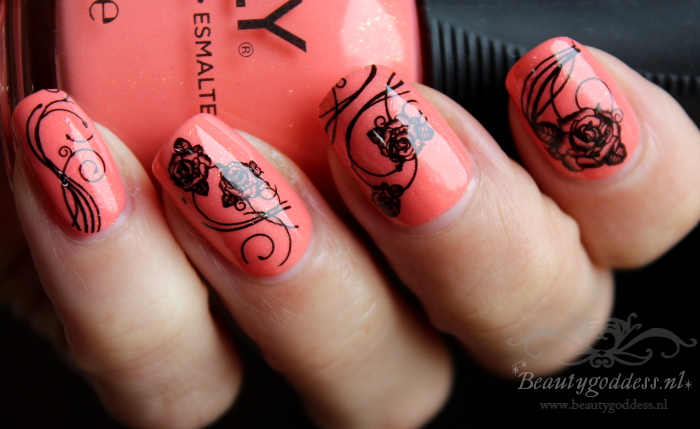 Ik ben zó onder de indruk van deze tattoos dat ik erover denk om het andere setje dat
ik heb liggen te reviewen voor jullie.  Ik denk namelijk dat voor meer mensen deze nailart
tattoos interessant zullen zijn omdat het zo ontzettend makkelijk is om ze aan te brengen.
Je hoeft er helemaal geen nailart skills voor te hebben:het is zo voor elkaar. Dus ook voor
de mensen die weinig tijd of geduld hebben zijn de tattoos ideaal!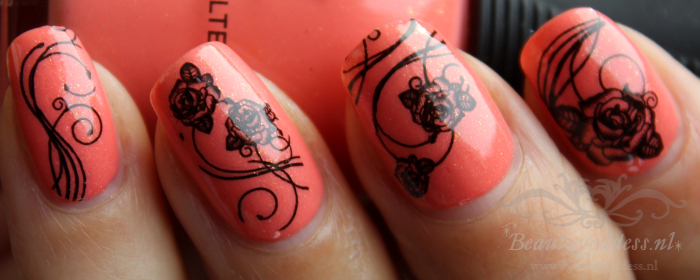 De tattoo stickers van KISS zijn voor 5,99 euro verkrijgbaar bij de DA drogist en in de
Alles voor je Uiterlijk webshop.
Zouden jullie het leuk vinden wanneer ik deze nailart tattoos review? Laat hem me
weten in de comments!