Memoirs of a Geisha nailart
Ondanks dat ik me had voorgenomen om dit jaar geen nieuwe
nagellak te kopen, kon ik me niet inhouden om Fairy Dust van
China Glaze aan te schaffen. Ik had namelijk gezien dat je met
deze holografische glitterlak een galaxy nailart perfect af kunt
maken. De Galaxy nailart 2.0 houden jullie nog te goed van mij:
vandaag schittert Fairy Dust in mijn memoirs of a Geisha nailart!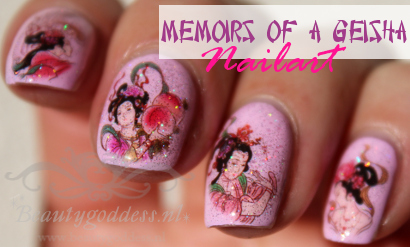 Bij Born Pretty Store bestelde ik laatst een setje waterdecals met Geisha print. Helaas was
ik niet helemaal in vorm en verpeste er een aantal van, maar gelukkig had ik er nog genoeg
over om de nailart af te maken.
Het boek Memoirs of a Geisha van Arthur Golden is een van mijn favoriete boeken
en inspireerde me voor de naam van deze nailart.
Ik bracht eerst twee lagen aan van OPI's Mod about you, die zijn hoogtepunt qua stroperigheid
(en waarschijnlijk houdbaarheid) heeft bereikt. Daarna bracht ik Fairy Dust aan van China Glaze.
Misschien had ik hier wel moeten stoppen want met de waterdecals wordt het misschien iets
té druk. Ook mijn camera had het moeilijk om de nailart goed vast te leggen.
Daarna bracht ik de waterdecals aan en sealde ze met een high gloss topcoat van Essence.
Voor de foto hieronder ben ik speciaal naar een boom gefietst met bloesems. Toen ik onder de
boom stond begon het ineens keihard te hagelen! Wat ik al niet over heb voor een paar foto's..
call me crazy

!
Zelf vind ik de nailart uiteindelijk geslaagd. Ik vind het een hele zoete lente nailart geworden die
door de holografische glitters extra pit krijgt.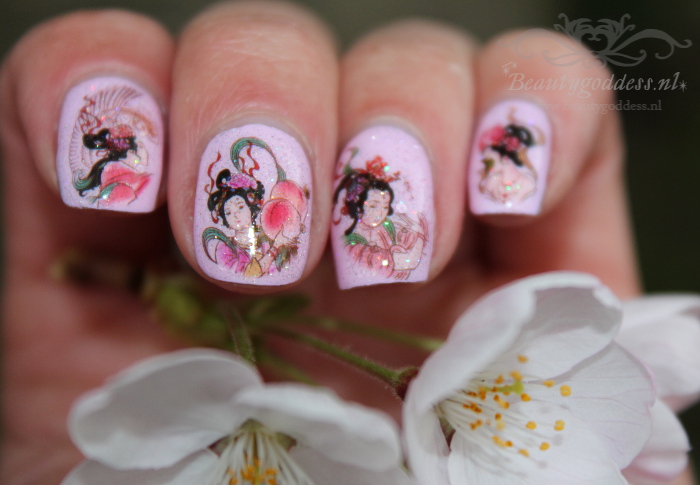 Wat vinden jullie van deze nailart?