Dots 'n roses, turquoise and sparkly nails
Voor deze creatie werd ik geïnspireerd door
The Polished Perfectionist. Ik zag haar versie
en was op slag verliefd. Ik bestelde zelfs speciaal
twee China Glaze lakjes en een Konad image plate
vanwege haar versie omdat ik het zo mooi vond
en hem zo precies mogelijk wilde namaken. Zo
perfect als zij het kan, kan ik het natuurlijk niet..
er kan dan ook maar een Polished Perfectionist zijn!

Ik vond het zo'n leuk en speels effect hebben die stipjes en die roosjes.
En de kleuren.. instant love!!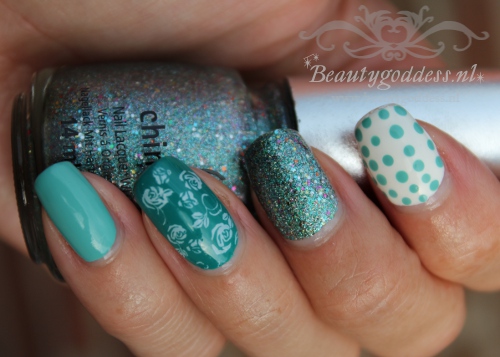 Voor de wijsvinger gebruikte ik een witte lak van Safari, de stipjes zijn gemaakt met
For Audrey van China Glaze
De middelvinger lakte ik met twee lagen optical illusion van Chinaz Glaze voor een
perfecte dekking. Het zal wel weer een hell of a job worden om het eraf te krijgen.
Voor de ringvinger gebruikte ik als basis Bella van Essence en de witte roosjes maakte
ik met Konad Image plate m65 en een witte lak van Konad
Op de pink bracht ik twee lagen For Audrey aan.
De duim kreeg dezelfde ontwerp als de ringvinger.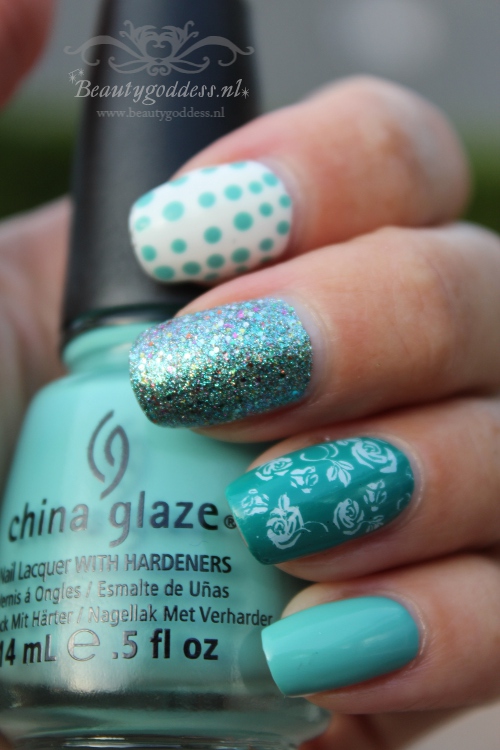 Hier kunnen jullie de versie zien waarop mijn creatie is geïnspireerd.