Review NYC Expert Lip Color lipsticks
Laatst won ik maar liefst 4 NYC lipsticks dankzij een
winactie van Evelien. Ik won de kleuren Candy Rush,
Red Rapture, Air Kiss en Peach Fiss. Het zijn super
mooie kleuren voor dit seizoen!
Benieuwd naar deze kleuren en hoe ze me staan?
Lees verder!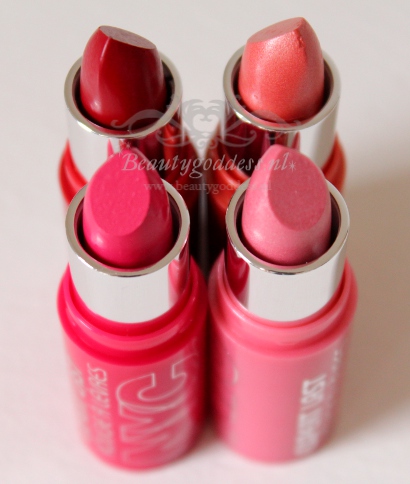 De NYC lipsticks zijn lekker budgetproof en kosten maar 2,99
euro. De verpakking ziet er alles behalve cheap uit vind ik. Ik
vind de doorzichtige dop ook handig zodat je de kleur direct
ziet.
Wat ik minder handig vind, is dat je de lipstick niet helemaal
kunt terugdraaien waardoor je met de dop voorzichtig moet
doen om de lipstick niet te beschadigen.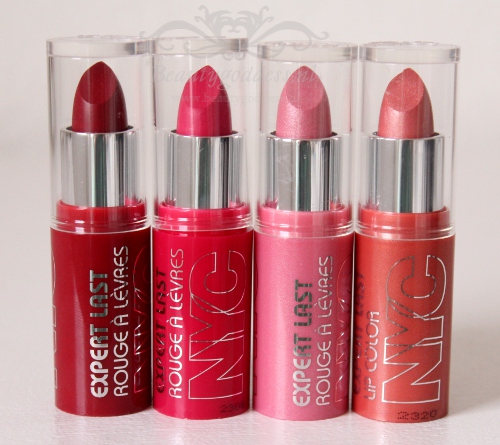 Er komt echt super veel kleur van de lipsticks af. Hieronder zien jullie
de swatches gemaakt met maar 1 veegje.
v.l.nr.r Red Rapture, Air Kiss, Peach Fizz en Candy Rush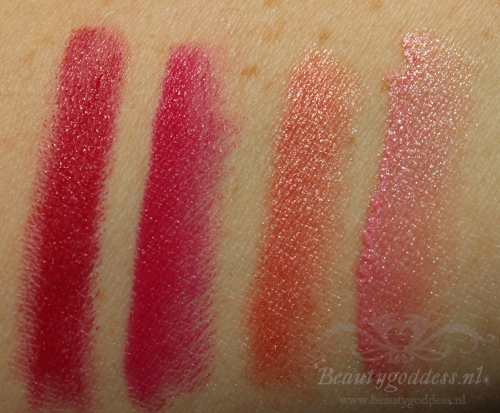 Air Kiss is een adembenemende creamy fuchsia kleur. Dit is mijn favoriet
van deze 4 lipsticks !
Red Rapture vind ik een mooie pin-up rode kleur. Rood durf ik
op de een of andere manier overdag niet goed te dragen. Ik
vind het daarvoor net iets te opvallend.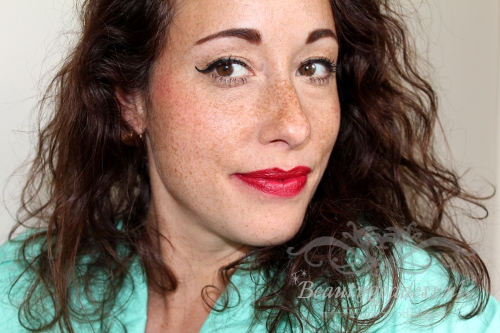 Ik moet een beetje wennen aan Peach Fizz. Ik vind hem mij aan de ene
kant wel staan, maar ik denk dat hij beter staat bij een meer gebruinde
huid. Ik ga hem tijdens de vakantie gewoon opnieuw proberen!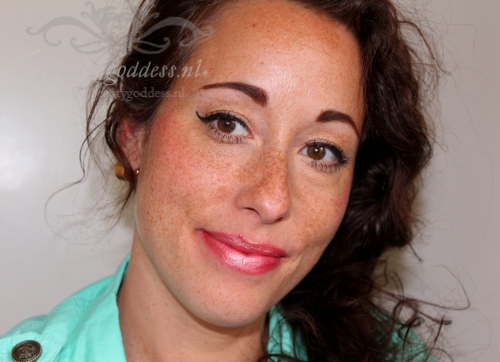 En dan de kleur die mij het minste staat, Candy Rush. ik vind het
een heel lief roze kleurtje, maar op de een of andere manier
staat het me gewoon niet vind ik. Ik denk dat de kleur te koel
is voor mij…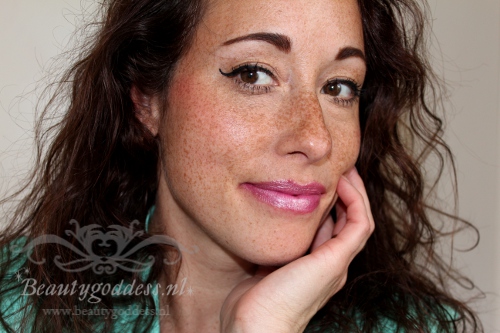 Welke kleur vinden jullie het mooiste?